Hi Vaping community, In this review I take a look at the B'adapt Pro SBS 100W Mod from Hippovape. The Hippovape B'adapt was supplied for the purpose of this review by Sourcemore.
Hippovape B'adapt Pro SBS 100W Box Mod
Introduction
Hippovape started off not on the best footing with many including me as releasing atomisers with faces that made them look like Minions is not the best move when there was a big debate around vaping brands trying to attract children! However more recently the "matured" Hippovape have released some interesting devices including the Papua and Kudos Squonk Mod which looks like a BF version of the highly rated Augvape Foxy One! Here, I take a look at their latest device which see's Hippovape enter the SBS market with this collaboration with VSS Project!
The B'adapt Pro gets it's name from being able to attach one of 2 different beauty accessories to slightly alter it's appearance. The device is a SBS which will accommodate either a 21700, 20700 or 18650 battery, however a 18650 adaptor isn't included! The B'adapt boasts Wattage, Voltage, Temperature and Bypass modes along with multiple safety protections, let's take a closer look!
---
In The Box
Contents:
1 x B'adapt pro SBS mod
1 x Type-C USB cable
2 x Beauty accessory
1 x User Manual
1 x Warranty Card
---
Aesthetics and Ergonomics
The B'adapt comes nicely presented in sturdy cardboard packaging and on first handling I was surprised by how solid it felt, very thick plastic making it's weight more in line with a metal device rather than plastic which the main body is! With these plastic see-through devices I tend to find the Clear, Black and Amber look really good while colours like Red and Blue can look cheap but the B'adapt comes in 4 options that in my opinion all look good. We have a Tawny clear which is like a see through Black, Amber clear, Dark Wood (A dark wood effect for those that prefer a solid look) and finally the one I received the Reddish Brown which I chose because for me it's the pick!
It has a typical SBS design with rear exposed Stainless Steel battery tube and lower front 510 Stainless Steel plate. below the plate section on the face of the device we have the horizontally positioned navigational rocker which can also be pressed centrally for locking and unlocking the device, below the rocker is the 0.96" screen! We have a nicely machined circular side fire button then moving to the base etched branding, safety stamps and the Type C USB port!
It has a really nice ergonomic form factor but with it's side fire button that's not taken advantage of and did feel quite awkward to use until I got use to holding it between my fingers and thumb, not convinced the side is the best place to have the fire button from a comfort point of view!
---
B'adapt Specs and Features:
Size: 80.5mm x 52mm x 28mm
Battery Type: 21700 / 18650 /20700 (not included)
Connector: 510
Power Output: 1-100W
Voltage Range: 0.5V-8.0V
Resistance Range: 0.1-3.0 ohm
Output Mode: Watt mode / Volt Mode / Temp Mode / Bypass Mode
Multiple safety protections
Charging: Type -C USB charging
Colour: Tawny clear / Dark Wood / Reddish Brown / Amber Clear
---
The Beauty Accessories
You receive two different beauty accessories, one full sleeve and an upper angled attachment which I do like. Both fit really well via rear channels and bottom magnets with no movement but they do reduce the size of atomiser that can be fitted to 22mm in diameter. Although a 26mm atomiser would fit towards the front and to both sides the position of the battery tube only allows for a 24mm atomiser which for me is a con as many recent SBS devices have allowed for at least a 25mm!
As mentioned I do like the upper angled attachment and also like the look with no attachment installed but the full sleeve attachment really isn't much use! It completely blocks off the airflow and while it does have 3 very small airflow holes on the attachment you would need to be very lucky for it to line up with the atomiser airflow and even then would reduce any airflow using a cyclops design!
---
Fitting The Battery
The B'adapt will accommodate either a 21700, 20700 or 18650 with an adaptor although one isn't included!
Of course being a side by side device one side is the battery tube, we have a threaded plate that screws down into the threading inside the tube for a tight fit, meaning no battery movement whatsoever. The marked orientation at the bottom of the tube is barely visible and we have no negative marking underneath the battery plate.
It can be a bit fiddly to get the threading to catch when screwing the battery plate in position to secure the battery which can take a few seconds or even longer sometimes (but only a few swear words passed my lips). Once it catches though it gets the job done even if the threading is a little crunchy!
---
The Display
The B'adapt doesn't have a colour display however it does give plenty of information (in fact more info than most), is well laid out and everything can be easily read! Top left we have the internal temperature and then top right the battery status icon with the status given as a percentage, very good!
Below to the left we have P (for power), V (for voltage), T (for temperature) or B (for Bypass) depending which mode you are in. Further down centrally we have the resistance and then below we have the wattage, voltage or temperature again depending on what mode you are using!
The lower half of the screen lined up with a central orientation we first have Amps, followed by Voltage (watts in TC or Bypass), Time of vape and finally the puff count!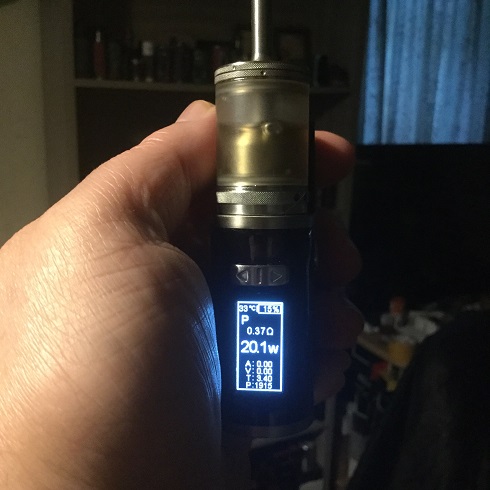 ---
Operating The Device
The B'adapt is the usual 5 clicks of the fire button to turn on and 5 clicks to turn off, once on pressing the navigational rocker centrally locks just the navigational rocker, alternatively fire and right together locks the fire button. If you want to lock the whole device you first have to lock the fire button followed by the navigational rocker so all bases are covered!
3 clicks of the fire button brings up a list of modes which are Watts, Volts, Temp and Bypass, just scroll so the mode you require is highlighted and then press fire to select. When choosing temp it will then give you the choice of SS, NI, TI or TCR and then allow you to lock in the resistance, when on the TC working screen pressing the fire button twice quickly will cause the wattage to flash which can then be adjusted!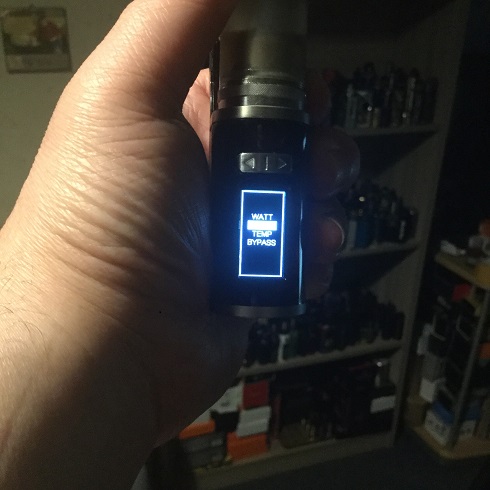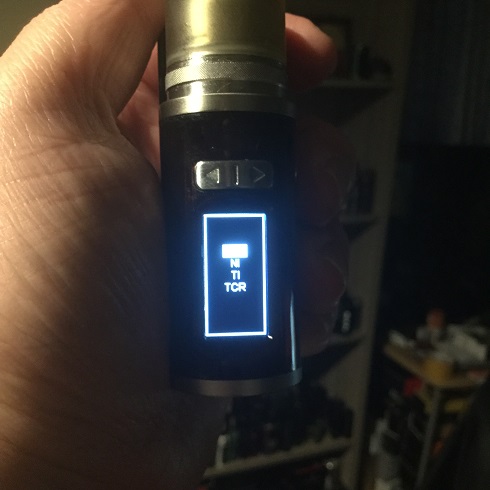 The wattage adjusts from 1w to 100w in 0.1w increments with single presses or 1w increments with the button held down, it doesn't round robin! The Voltage can be adjusted in 0.01 increments from 0.5v right up to 8v, the final feature is left and the fire button pressed together resets the puff counter!
---
Protections:
8S Overtime protection
Battery low protection
Overheating protection
High/Low ohm protection
Short circuit protection
---
Charging
Although I never recommend charging in the device if it's your only option the B'adapt has a type C USB positioned on the base! Although those charging in the device will find the position of the USB a con as the device can't be stood up while charging for most who will never use it probably will prefer it out the way allowing for a slicker look!
While charging a status bar is displayed and once fully charged the screen turns off! As for the charge rate I have absolutely no idea as I can't find that information in the manual or on the Hippovape website but my guess for what it's worth would be either 1.5 or 2A!
---
My Thoughts!
The devices performance is impressive, boosts voltage to 8v, fires with no delay and just worked flawlessly however it isn't perfect by any means. The first issue is like many devices these days it has smart wattage but it can't be turned off so every time the device is turned off, atomiser removed or batteries swapped out the wattage alters to one the device thinks you should be vaping at which is never the wattage you actually want!
The next is although I quite like the angled attachment and the whole idea of "adapting" the look it reduces the allowed atomiser size to only 22mm and the full sleeve attachment either completely blocks or reduces airflow, also only allowing for a 24mm atomiser when not using one of the attachments is quite limiting in comparison to other recent SBS releases which have allowed for at least a 25mm!
I am also not a great fan of the side fire button which doesn't allow full advantage to be taken of the ergonomics, however I really like the navigational rocker and the USB port being on the base although this will be a con for those wanting to charge in the device!
I like that either just the rocker, just the fire button or the whole device can be locked and the display and layout is top notch giving as well as the usual information also the PCB temperature and battery charge as a percentage! Despite it's flaws it's a really good device which I enjoyed using and although the attachments for adapting it's look could of been executed better, a good idea!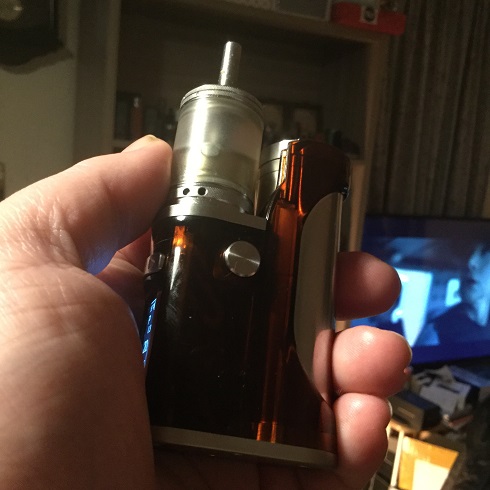 ---
Likes
Really nice looking
4 colour options including wood effect
Solid feeling device
Device look can be altered
Attachments fit very securely
Really nice display with loads of information
Multiple locking options
Will accommodate either a 21700, 20700 or 18650 battery
Really like fire button even though I do not like the position
Excellent navigational rocker
USB port being on base gives a slicker look
Device boosts voltage to 8V
Wattage, Voltage, TC and Bypass modes
Device fires without delay and performed faultlessly
Type C USB
Cons
Only 22mm atomisers will fit using attachments
Only 24mm atomiser fit without
Full sleeve attachment blocks airflow
Really nice fire button but do not like the side position
USB on base will be a con if charging in the device
Poorly marked orientation
Fitting battery plate fiddly
Smart wattage can't be turned off
18650 adaptor not included
I would once again like to thank Sourcemore for supplying the Hippovape B'adapt Pro SBS 100W Mod, thanks for reading and stay safe!
Hippovape B'adapt Pro SBS 100W Box Mod
$31.99 - Hippovape B'adapt Pro SBS 100W Mod
Code: BP100
Disclaimer: I am not affiliated with Sourcemore or benefit in any way from the use of the above code but was asked if i would include it in my content!
---