Introduction
This should be a simple review, it's a stock-coil tank – either it works or it doesn't.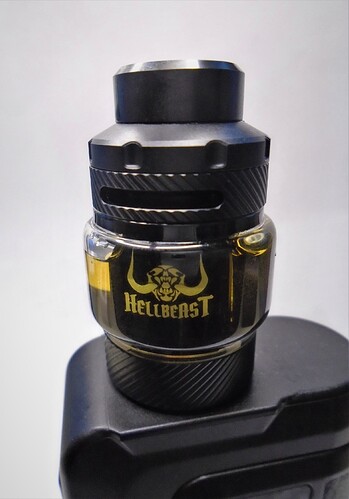 Product overview
The Hellbeast 2 is a 24mm, 3.5/5ml, top-airflow stock-coil tank, that comes with a 0.2ohm mesh coil, and has an optional 0.15ohm mesh coil.
What do you get?
Hellbeast 2 stock-coil tank
2×0.2ohm coils
Accessory bag
From everything I heard, there is going to be a 0,15ohm coil available for this tank – however, it's not supplied with the tank.
First impressions
One thing I'm gonna give to Hellvape – they usually get their aesthetics just right, and the Hellbeast 2 is no different, there's nothing overly special about the looks, but from the knurled finishes on the base and airflow ring, to the notches on the top-cap and the overall proportions, it looks good.
Initially, I thought that the top-cap was far too loose – it just needed a tiny turn and it would open, however, I then realized that I just wasn't turning it enough to close properly, it feels closed with a tiny turn, but it will turn much further and be totally secure.
How does it perform?
My first experiences with this coil were a little underwhelming, there was too much airflow and the flavor was merely average. So, of course I cut down the airflow (50-75% open is good), however this didn't improve things much.
What I did notice, was that the amount of flavor was gradually increasing the more than I used the tank. So, I persevered and eventually it went from "meh, it's okay" to "it's not too bad" to "tastes fine" to "actually this is good" and finally to "oh shit, this tastes strong and awesome"
So yeah, these coils require a decent amount of breaking in, but the end result is really worth it.
Like most mesh coils, it's not subtle. Picking up on subtle flavor nuances is not what mesh does best – but decent cloud production, with good and consistent flavor – yeah, this coil does that really well.
This coil is rated from 50-60w, I didn't get anything extra from 60w, but it still kept up well. 50-55w with the airflow closed a little is perfection.
Coil-life
I have no idea – I've been using it as my daily driver for the last twelve days, and I'm still on the first coil.
What could be improved?
Make it bigger! It's the Hellbeast – make it a beastly 30mm and 10ml and it would be spectacular.
Give a different coil in the package. I like the 0.2ohm coil a lot, but variety is the spice of life.
Despite the 'anti-condensation' features on the supplied drip-tip, I prefer something narrower and curved.
Conclusion
The Hellbeast 2 isn't re-inventing the wheel, it just does what every other stock-coil tank does – but it does it very well.
I'm very much obsessed with rebuildable atomizers, but this is definitely good enough to put my regular DTL RTAs on the shelf for a while, and use this as my daily driver until the coils run out.
If you're a stock-coil tank user, and 0.2ohm/50-60w sounds good, then you're probably going to like this one.
Disclaimer
Unless otherwise stated, all products reviewed have been provided for review purposes.