Hi Vaping Community, In this review I take a look at the Dead Rabbit V3 RDA by Hellvape. The Dead Rabbit V3 RDA was supplied for the purpose of this review by Fiona from Hellvape.
Read Rabbit 3 RAD-Hellvape - The DIY atomizer leading brand
Introduction
Hellvape are an atomiser specialist best known for their Dead Rabbit series of RDA's, RTA's and most recently the innovative R Tank. Here we are back to where the Rabbit culling began, the Dead Rabbit RDA, now on version 3!
The new V3 see's the Rabbit ear posts get the cylindrical aerodynamic treatment which also allows plenty of room for trimming after the coils are installed. The other main upgrade is an increase in airflow now having the choice or three rows of honeycomb rather than two or three slots per side.
The V3 was designed with squonking in mind with the flow from the BF pin being directed through channels towards the cotton either side and also having a deep 5mm well! Coming fitted with an anti bacterial 810 drip tip and coming in 8 colour options let's crack on and take a closer look!
---
In The Box
Contents:
1pc Dead Rabbit 3 RDA (Resin Drip Tip)
2pc 0.37ohm Ni80 Fused Clapton Coils
2pc Shoelace Cotton
1pc BF Pin
1pc Accessory bag
1pc Tools bag
1pc Social Media Card
1pc User Manual
---
Aesthetics
The Dead Rabbit V3 came in the usual Orange Hellvape cardboard box packaging with viewing window so the RDA can be seen without opening the box, on the reverse we have specifications and listed contents! I received the Red version, the options are Stainless Steel, Matte Black, Matte Full Black, Gunmetal, Gold, Rainbow, Blue or Red!
Up top we have a Resin 810 Goon fit drip tip with lower Red band that has "HELLVAPE" printed on it! The protruding section of the inner sleeve has a castle design and then the features of the outer sleeve are the three slotted airflow either side (will be honeycomb if lined up with honeycomb airflow of inner sleeve) and large Dead Rabbit logo carved into the metal, on some colour versions including the Red I received this then also has a metallic finish!
Moving to the base we have etched branding, safety marks and serial number, the Gold plated 510 protrudes nicely and will be fine using on mechanical devices, just build safely and know your battery safety and ohms law, also always check the resistance on a tab or regulated device first!
The 24mm in diameter V3 being only about 37mm in height has quite a small compact look to it and at 42g is quite light!
---
Dead Rabbit V3 RDA Specs and Features:
Diameter: 24mm
Height: 37.35mm
Weight: 42g
Capacity: 4.5ml
Drip tip: 810 drip tip
Coil type: dual coil
Honeycomb & Slotted adjustable airflow
Aerodynamic Rabbit Ear Posts
5mm deep juice wells
Side filling via BF Pin for quick transfer to cotton
Use with BF pin or as Standard Dripper
Trim coils leads after installation
Thread: 510
Colours: Stainless Steel, Matte Black, Matte Full Black, Gunmetal, Gold, Rainbow, Blue, Red
---
What You Receive?
As well as the Dead Rabbit V3 RDA with installed anti bacterial Goon fitting Resin 810 drip tip you also receive a manual and social media card.
We then have three bags with spare O-rings, post screws and a BF pin being in one and 2 different sized Allen Keys and a flathead screwdriver being in one of the others.
The final bag comprises of 2 shoelace cotton pieces and a pair of fused claptons, NI80 3.0ID 0.37ohm, full specs not given but I am sure you knowledgeable folks can work out from the information given the gauge of cores and binding!
---
It's Various Parts
Up top we have a Resin 810 goon fitting drip tip which is fitted to the inner sleeve which can be pulled free from the outer sleeve which reveals two opposite sides have honeycomb airflow and the other two sides have a slotted airflow design! The inner sleeve also has a sturdy outer O-ring.
The outer sleeve has slotted airflow either side and this pulls off the deep welled base section. The base has a neat looking post design with gold plated positive posts, the posts while having a new cylindrical look still stays true to the Dead Rabbit ears design!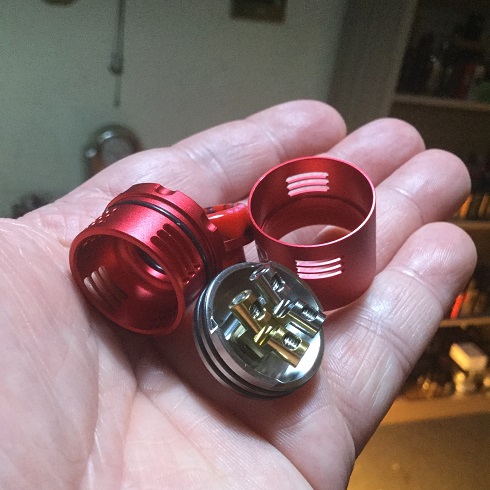 Pre-installed we have a standard pin but this can be swapped out for the included BF pin!
---
BF Friendly!
The Dead Rabbit V3 with goon style drip tip which is easily pulled free works as well as any other RDA as a standard dripper and has a deep 5mm well! This deep well also makes the V3 very BF friendly with channels that guide the e-liquid from the pin directly either side to your cotton!
The pin holds all the parts of the deck together which is great for cleaning purposes but it does mean the pin can't be swapped out on the fly!
---
The Airflow
The outer sleeve has three slots lined up vertically either side, we then have an inner sleeve, the top protrudes above the outer sleeve to allow for it to be turned. On this inner sleeve we have the same matching three slots opposite each other and then the other two opposite sides has three rows of honeycomb airflow holes, 5 each row so 15 per side in total!
When placing the outer sleeve on to the base you have a protruding tab either side on the inside of the sleeve which sit on rails and when next to the stopper one side is lined up centrally with your coils. Then the inner sleeve can be turned to adjust airflow, so you can have all 3 rows of 5 holes open, 3 rows of 4 holes, 3 rows of 3 holes and so on, when the airflow is fully closed you can then carry on turning to open up the 3 slot airflow either part open or fully open! Normally when an RDA has this design when the airflow starts to get closed down it no longer lines up centrally to your coils but because the outer sleeve sits on the mentioned rails after airflow adjustment it can be realigned! Excellent!!!
The slots on the outer sleeve and both slots and honeycomb airflow holes on the inner sleeve are cut out to have a downwards angle to give both lower side and bottom airflow!
---
The Deck
The deck has that familiar Rabbit ear posts look but with new aerodynamic cylindrical design. We still have large terminals and as before the leads get slotted into place from above just like you would with a postless design, there is now even more room to access your leads for snipping! The leads get fastened via the ends of the posts by slotted screws but you also receive a set of hex screws if you prefer!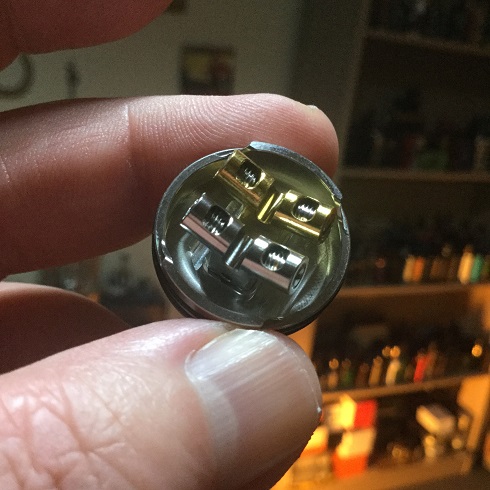 ---
The Build
As mentioned we have easy access to the coil leads but I used the included Fused Claptons that looked very decent which had very long leads so did give them a quick trim first. Then just drop your leads in the terminals from above, hold at the correct height with a coiling rod and fasten down, I then repeated the process with the other coil! You can then manipulate the position of your coils with a coiling rod or fit for purpose tool, I positioned them more towards the airflow than centre but still left enough room for the air to spread and give full coverage to the lower sides and bottom of my coils, once in position I snipped my access leads!
Then I gave my coils a quick pulse to get them glowing from the centre outwards, at this point you also strum out any hotspots although I didn't have any.
Despite the coils sitting quite high above the deck the included shoelace cotton is so long I found just one piece was the ideal length to feed through both coils and then just cut on the bend. I then fluffed up my ends, trimmed and then tucked in the juice well. I then primed my build and gave it a few pulses to admire my work (somebody has to)!
---
My Thoughts!
I did think the lack of a 510 option in the form of an adaptor like we saw with V2 might be a con but V3 gives that much more air than V2 a 510 just wouldn't make sense!
With the slotted airflow fully open this is a cloud chucker and although flavour isn't bad it's not any great shakes! It has no restriction and is quite loud but then my experience using the honeycomb airflow was quite different, super smooth and top notch flavour. There is still little in the way of restriction with the honeycomb airflow fully open and even when closed down to just 3 holes per row it was a medium loose direct lung draw so not for the likes of me that prefer plenty of restriction and more modest wattage!
My build came out at 0.19ohms and with the slotted airflow fully open I found it needed 85w to be at it's best but I settled for the honeycomb airflow with 3 holes per row and then realigned which only needed 60w and although I would prefer much more restriction for me this was the RDA at it's best which I can appreciate that for those who prefer little in the way of restriction this is a flavour banger that gives plenty of cloud for good measure!
Of course you can also drip when using on a BF device so I did swap for the BF pin so I could test both options and it works fine as a dripper and excels as a BF RDA directing the liquid directly to the cotton and with it's 5mm juice well! Dropping the coils in from above and having plenty of room to access your leads makes the build very easy and I do love the futuristic cylindrical post design!
Having the outer sleeve sit on a rail system so that after airflow adjustments it can be realigned to the centre of your coils is excellent and the inner sleeve moves with just the right amount of restriction. The deck comes completely apart which is great for cleaning purposes but I often like to switch from standard to BF devices so would of preferred being able to swap pins on the fly!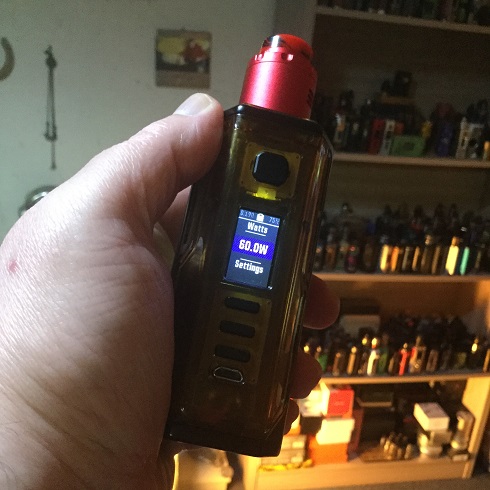 ---
Likes
Nice looking RDA
Comes in 8 colour options
New aerodynamic cylindrical post design
Easy access to coil leads
Very easy build
Spare hex screws included
BF pin included
With BF pin liquid channelled directly to cotton
5mm juice well
Large terminal, coils lower from above
Slotted or honeycomb adjustable airflow
Honeycomb airflow, smooth and gives top notch flavour
Outer sleeve moves on rail to realign adjusted airflow
Ag Anti bacterial Resin 810 drip tip
2 Fused claptons and 2 pieces of shoelace cotton included
Deck comes completely apart for easy cleaning
Cons
Subjective con for me that I can't swap pin on the fly
Flavour down with slotted airflow more of a cloud chucker, quite loud
Only suitable for higher wattage users who like next to no restriction, not very versatile in this regard
I would once again like to thank Fiona from Hellvape for supplying the Dead Rabbit V3 for the purpose of this review, thanks for reading and stay safe!
Read Rabbit 3 RAD-Hellvape - The DIY atomizer leading brand
---