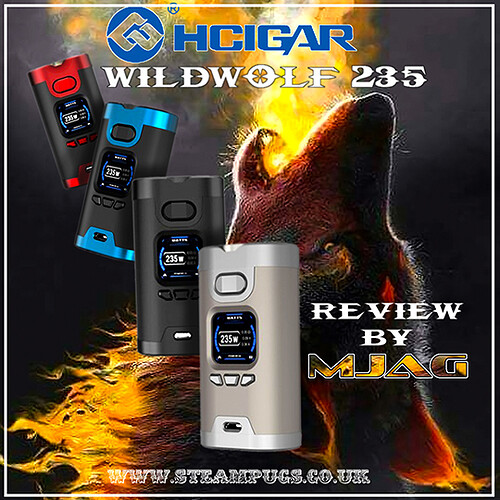 Hcigar has been around for awhile, mostly known for there DNA mods in the past but they have taken a different approach with the Wildwolf 235. No DNA chip this time, instead there own chip so let's take a look at how it performs.
Available in 5 colors:
Everything is controlled via the screen, no menu to go into:
Getting to know the Hcigar Wildwolf 235
The first thing you will notice when taking the Wildwolf out of the box aside from the light weight is it already comes with a Black Silicone Case already installed. Nice touch as that will come in handy for those that are rough on there mods.
A definite con with the case is you have to remove it everytime you want to change batteries, I left mine off the entire 4 week review period.
Also comes with a decorative ring which at first glance should hold a 24mm tank but that is deceiving.
Try as I might none of my 24mm tanks would make connection like the Loop RDA.
Upon closer inspection there is a second lip inside and when I measured it it came to 22mm so that means only 22mm tanks with work like the Nudge 22 RDA, looks a little funky to me though.
Without the case the rubberized finish just feels great in the hand, one of the most comfortable mods to hold. It is also very compact for a dual 18650 mod, here it is against some of the smallest dual 18650 mods in my collection.
It is the lightest of all those pictured, in fact I went and weighed a lot of my dual 18650 mods (without batteries) and aside from the 3D printed Boxer the Wildwolf was the lightest at 103 grams. The USV Arc mod was the second lightest at 109 grams but it is much bigger and the 3rd lightest was the Artery Hive 200 at 122 grams, review coming soon.
The display is nice and bright, really well done and easy to navigate, you do everything from the screen, no menu to go into. Takes a little bit to figure out if your not use to a mod with a menu button but once there it is easy as pie. The battery door does have a lot of play when opened to install batteries but once shut it is nice and secure, never had any problems there. The 510 is nice and wide to accept up to 30mm tanks with no overhang. Tight spring and decent travel, never had any connection problems and it reads ohms just about spot on.
I tried to take the entire mod apart to show the guts but that would have required some unsoldering which I am not as handy there as I would like. I did check out the 510 and it appears to be well done with good gauge wires and mounted from under the 510 plate which means no coming loose like some press fit from the top mods. The battery door is marked for polarity and is easy enough to see. The inside has the polarity clearly marked, more clear to see than the battery door.
One annoying feature is the auto shut off after an hour, cannot be defeated as well. In the manual Hcigar states it is to stop battery drain so that might be a board problem but it is still annoying. You can't even turn off the mod manually, 5 clicks of the fire button just locks the mod so you cannot fire it. For an all around very good mod that is annoying but it didn't stop me from enjoying it for the most part.
Being 30mm it likes big tanks to look it's best, the tank on the left is the 31mm Glaz RTA and even though there was slight overhang I love the combo. The tank on the right is the 30mm Aromamizer Plus, fits like a glove.
Smaller tanks still look good.
The finish on mine still looks good aside from a couple of nicks on the 510, some of which you can see in my photos. The rubberized portion still looks great but wow does it pick up and moisture from your hands easily, you will be wiping it down a lot. I have read some comments in the forums that the finish is not wearing as nicely for some. Mine isn't as pristine as I would like it but doesn't look beat up at all after more than a month of daily use. Most of my pics are taken on the day of my review so judge for yourself.
Power Performance
Listed at 235 watts that makes me suspicious, most dual 18650 mods are good to 150 watts no problem but above that they need to have the right circuitry to boost the output. I am not setup to test the output like Anthony Vapes, Daniel or our own @SmilingOgre so I won't even venture to guess but will say it didn't seem to hit the mark up high. Still great power mode performance up to about 175 watts and this thing hits in an instant, no delay whatsoever. Feels like there is a boost even with it set to normal, the powerful mode does hit better and my preferred mode when in power. All in all I was very pleased with how responsive it hit and never missed a beat, there has to be a boost or something though as it is just instantaneous when you hit the fire button.
They do include a Variable Wattage Curve as well in power mode, works well and is easy to set up. It hit so damn instantly in just straight power mode that I never bothered much with the curve mode, nice to have options though.
TC Performance
This is where I was the most skeptical and was thinking they may have made a mistake by using their own chip instead of a DNA chip which they used in the past. I can say without a doubt they surprised me though, not the most accurate or smooth but an enjoyable TC vape with SS316L. It is on the cold side so I generally ran the temp 20F higher than normal, sometimes as much as 30F depending on my build. Even running it at 450 to 460F the dry hit protection always kicked in to stop the dreaded dry hit. The only time I would run into problems is when I was in a hot location, it would tend to not work as well so I would switch to power mode. Overall it gave me a very nice TC vape as long as I ran the temp higher than normal, I am picky when it comes to TC but enjoyed it nonetheless. Not DNA or Yihi quality TC, if your super picky and need to be dead on then this is not for you.
Problem for those that like to run SS430, 304 of the NiFe variants of TC wire, no TCR available which is an unfortunate oversight on Hcigars part. If you need TCR or TFR then you will want to pass on this mod since it does not offer either.
There is a variable TC curve as well, works well enough, no complaints here but I generally always just used the normal TC mode.
Full power available in TC mode which is a good thing, some mods limit power in TC mode which never makes sense.
Pros:
Hits quick and hard in power mode, something I would always notice, no delay
Great at reading ohms, was never off by more than 0.01 ohms
Good TC performance, just runs cool so you will want to raise your temp
Solid 510 connection and mounted from underneath so no chance of your 510 popping off
Buttons are solid, nice and clicky
Battery door is secure with batteries installed
Great hand feel and one of the lightest dual 18650 mods aside from 3D printed models
Great screen that is nice and bright, easy to see outside in the sun
Black Silicone Case included
Cons:
1 hour auto shut off is annoying and no way to defeat it
No TCR or TFR adjustments for TC, not a mod for those that TC SS430, 304 and the like
Battery door has a lot of play when opened to install batteries, solid once closed
No way to manually turn off the mod, just have to let it sit for an hour and it will turn off by itself
Does not compensate well for hot external temperatures when in TC mode
Decorative ring only works for 22mm tanks, would have been great if it worked for 24mm
Final Thoughts
The Hcigar Wildwolf wasn't a mod I was planning on buying but after receiving it for review I would buy another if I lost it in a heartbeat. The reason for that is a number of factors, lightweight, great hand feel, performance and it holds 30mm tanks which for me makes it a winner. I really am pleasantly surprised with the Wildwolf as I have not had great experiences with previous Hcigar products, all of them are no longer with me. A friend of mine liked it so much he wanted to swipe mine…bastard. He then went out and bought 2 and have been using both everyday…like I said bastard…lol. Really my biggest complaint is the auto turn off, annoying but not enough to get me to stop using this mod.
While not the perfect mod I think it is a genuine bargain for the prices I am seeing Vapecrawler and check out the AliExpress app as well, my friend scored his on there for less than $40 each shipped.
I almost turned Hcigar down to review the Wildwolf as my review que and my work schedule is getting the best of me. I am now really glad I didn't as it is always a plus when you get a review product you will continue to use long after the review is done.
I would like to thank Emily at Hcigar for convincing me to review the Wildwolf, it was an absolute pleasure. You can find out more at there website: https://www.hcigar.com/portfolio-item/wildwolf-235w-box-mods/
Check out how this stacks up to other tasty gear and meet the Steampugs team of reviewers. Your bound to have a good time and read up on some great products, not so great ones too http://www.steampugs.co.uk/