Hi Vaping Community, In this review I take a look at the Obelisk 200 18650 Kit With Obelisk Tank from Geekvape. The Geekvape Obelisk 200 18650 Kit was supplied for the purpose of this review by Allison from Geekvape.
Introduction
Geekvape have been on the block for a long time but over the last 4 years have been known for their multiple Aegis devices and Zeus atomizers with most other products released under the Digiflavor brand.
Bearing that in mind it's nice to see a complete new range of devices that are not IP67 and don't bare the Aegis name, don't get me wrong quite rightfully the Aegis devices with their IP67 rating are popular it's just nice that they are now manufacturing an alternative range as I am sure most don't want every device they own to look like a tank going into battle!
The Obelisks keep the familiar display and user interface but aesthetically it's an all new look and here the 200w version that I am looking at is claimed to be the smallest dual 18650 device, although I have heard that claim multiple times I must say the Obelisk 200 is very small being both smaller and lighter than the 120FC version so just maybe it could be? Unlike the 120FC version with this being a dual 18650 device we don't have the PD Fast Charging or Power Bank feature. The Obelisk 200 has all the usual modes, Power, TC-SS, TC-TCR, VPC (power curve) and Bypass, let's crack on!
---
In The Box
Contents:
1 x Mod
1 x Atomizer (5.5ml)
1 x USB Cable
2 x Geekvape Z Series Coil(Pre-installed: 0.2ohm, 70-80W; Z 0.4 Mesh Coil 0.4ohm, 50-60W)
1 x Spare Parts Pack
1 x Coil Tool
1 x Spare Glass Tube (5.5ml)
1 x Manual
---
Aesthetics and Ergonomics
The Obelisk 200 Kit I was sent came in sample Black cardboard box packaging with outer cardboard sleeve with contents, specs etc on the reverse. I received the Black version which came with matching Black Obelisk Tank, the options are Silver, Blue, Gunmetal or Black.
Either side we have a large rectangular panel which is made from 4 layers with the final top layer giving a mirrored look, it sounds similar to the IML process apart from unlike the IML process these panels are fingerprint magnets, on the vertical towards the front at the top on each mirrored panel we have "geek vape" in a mirrored Silver finish!
Unlike on the Aegis the front panel is curved and instead of a light switch style fire button we have an horizontally positioned rectangular fire button which protrudes nicely and is both mushy and clicky. Below we have the screen followed by the horizontally positioned navigational rocker which again protrudes nicely and has the same mushy and clicky feel as I found with the fire button, finally below the rocker we have the Obelisk logo.
The spine is curved with spaced vertical corrugations and moving to the base we have a slide off battery panel with safety stamps, branding and grooves to help the sliding off process! Moving up top we have Stainless Steel with a brushed finish rather than a plate and the threading is directly machined into the Stainless Steel top, the brushed finish will help hide any scratches caused by attaching atomizers, the 510m is Gold plated and Spring loaded.
The device is comfortable in the hand and with it's CNC machined Aluminium main construction is much lighter than I expected, build quality is very good, no complaints at all apart from as mentioned those fingerprint magnet side panels!
---
Obelisk Tank Specs and Features:
Materials: SUS303
Drip Tip: Replaceable 810 Drip Tip
Included Coils: Geekvape Z 0.2 Coil (70-80W), Geekvape Z 0.4 Coil (50-60W)
Tank Capacity: 5.5ml
Fill Method: Top Filling
Airflow Control: Bottom Airflow Adjustment
Child Lock: Lift and Slide Top Cap
Thread: 510 thread
Colours: SS, Blue, Black, Rainbow, Gunmetal, Gold
---
Obelisk Tank Overview
The Obelisk Tank is a bottom airflow slots alternative to the top slots Zeus Sub-Ohm tank and takes the same Z coils. The tank has a 5.5ml capacity with it's bubble glass which is standard while the TPD version comes with a 2ml straight glass, both versions come with a spare glass! The base reveals branding, safety marks and a Gold plated protruding positive pin.
The Obelisk tank has a child lock feature with a spring loaded top-cap which needs lifting before sliding open.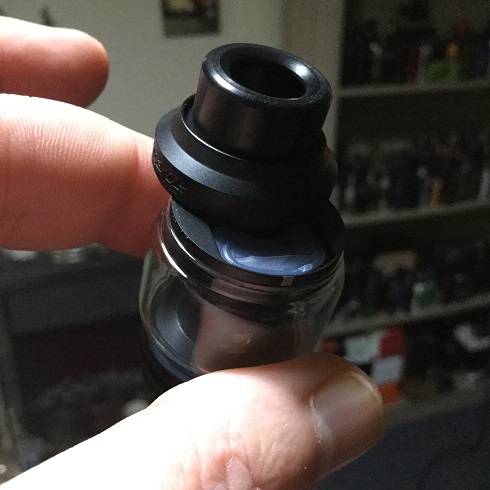 Once open we have a self sealing membrane covered fill port and when filling with certain bottles the drip tip can become an obstacle so needs removing first! The drip tip supplied is a Goon fitting 810 so you can use one of your own if you prefer!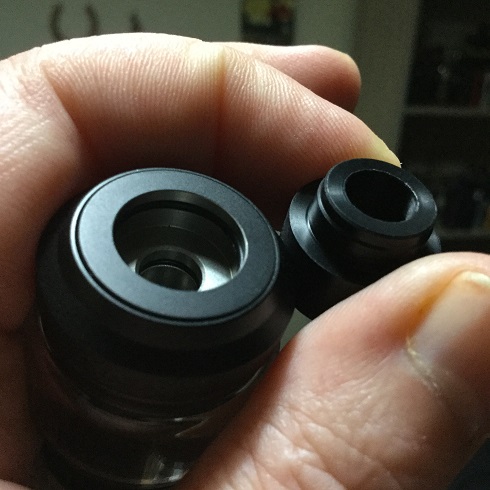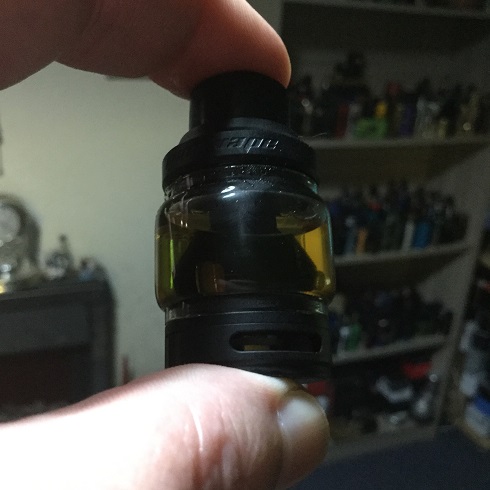 ---
The Coils and Fitting Them
The Obelisk tank has 2 included coils which are both kanthal mesh, all other Z range coils are also compatible. Pre-installed we have the 0.2ohm Mesh single coil head which is rated between 70-80W. The other included coil is the 0.4ohm single mesh coil head which has a rating between 50-60W, the specs are etched onto the coil head shells.
The mesh is more of a Netting style giving plenty of surface area with large gaps between so wicking will be no issue, the coils also have 4 very large wicking ports.
The coil head simply gets press fitted into the chamber and pulled out to remove, if you have any problems pulling the coil head out you do receive a tool to help but I have had no issues. Looking on the chamber we can see 2 large wicking ports to allow e-liquid to surround the coil head. We also have 2 protruding tabs on the coil heads and little indents on the side of the chamber, these tabs need to be lined up for the coil to be properly fitted!
---
Obelisk 200 Specs and Features:
Size: 82mm x 48.5mm x 26mm
Weight: 110g
Material: Aluminium, Stainless Steel
Output Power Range: 5-200W
Resistance Range: 0.05-3.0ohm
Longest Output/vaping Time: 10s
Temperature Control: 200-600°F/100-315℃
External Battery: 2 x 18650 (Not Included)
Working Temperature: -10-6o℃
Charging voltage: USB Type-C 5V/2.5A
Display Screen: 0.96 Inch TFT Colour Screen
CNC Machined Aluminium Body
Thread: 510
Colours: Gunmetal, Black, Blue, Silver
---
Fitting The Batteries
The Obelisk 200 accommodates dual 18650 batteries that get fitted via the bottom of the device. The trade off in it's small size is the battery panel removes rather than being hinged and slides along a rail securing tabs in place both to the rear and towards the front, we also have a magnet towards the front to make it even more secure!
Although when pressing down on the door we have some play towards the rear the dual tabs plus magnet system actually is very secure but having to line the tabs up before sliding into place can be fiddly and I am never a fan of small bottom doors that detach, but like I mentioned it does help save space!
You can use the vibrant orientation markings at the bottom of the tubes but would still like to see orientation marked in Bright White on the underside of the slide door rather than just embossed into the metal.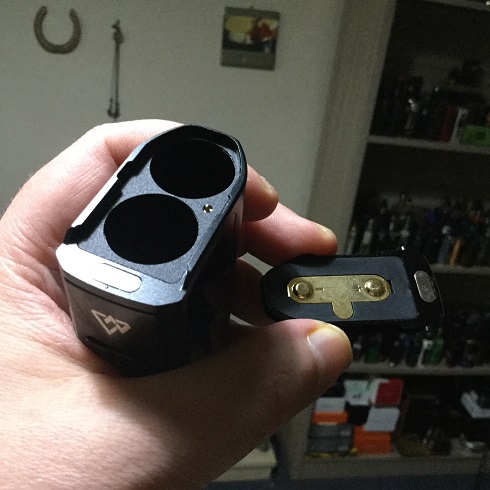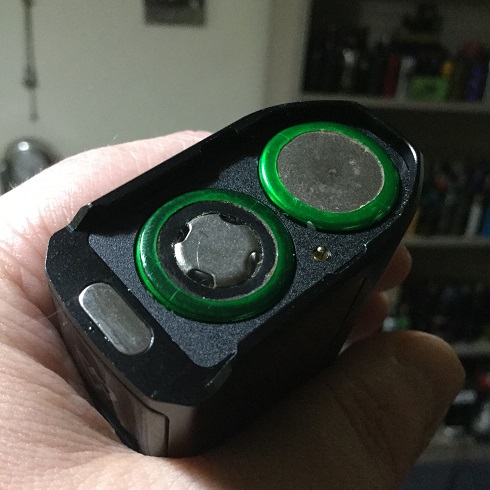 ---
Display
The display is very bright and sharp as well as being very familiar if you have some of the Aegis devices that tend to use the same display and menu system. Everything is lined up vertically so up top we have the battery status bars followed by mode, then underneath the mode we have either wattage, temp or voltage depending which mode you are in.
In the lower section we first have resistance followed by amps, then voltage and finally the puff count which shows vape duration while firing!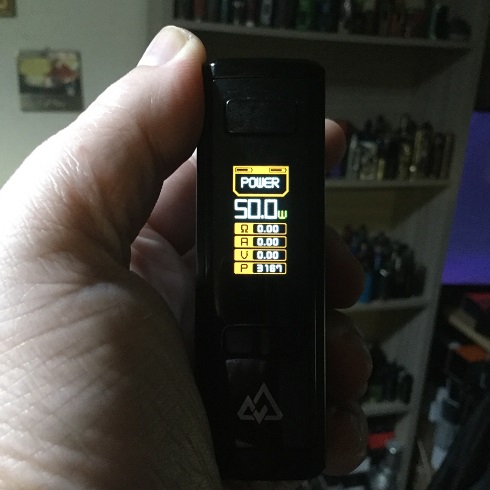 ---
Operating The Device
The Obelisk 200 is the usual 5 clicks of the fire button to turn on and 5 clicks to turn off, once on holding both + and - sides of the rocker at the same time locks the navigational rocker but the device will still fire. The brightness percentage of the display can also be adjusted by either pressing fire and left together to decrease or fire and right to increase!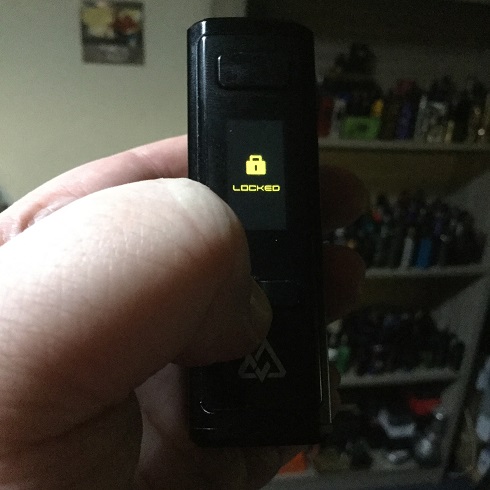 3 clicks of the fire button highlights the mode which can then be changed by using the navigational rocker, the modes are Power, TC-SS, TC-TCR, VPC (power curve), and Bypass.
When the mode can be changed via the navigational rocker a press of the fire button will take you to any item on the screen which can be altered in turn so for example when the screen is on power but still highlighted then a press of the fire button will highlight Puffs and pressing - will reset them, when TC-SS is highlighted for example it works the same way and you have options to resample and lock resistance. Also when a mode is highlighted pressing both sides of the navigational rocker now instead of locking changes the colour of the accents on the display, each press changes them to a new colour, the options are Orange, Yellow, Blue, Light Green or Red!
When VPC (power curve) is highlighted each press of the fire button allows the next section of the curve to be altered using the navigational buttons and when finished holding fire for 2 seconds sets the curve!
On the normal working screens the wattage can be adjusted from 5w to 200w in 0.5w increments with single presses or 1w increments with an adjustment button held down, it scrolls quickly and round robins. Again in TC the temp round robins between Celsius and Fahrenheit with Celsius adjusting in 1 degree increments while Fahrenheit adjusts in 5 degree increments.
---
Charging
As usual I would encourage to charge externally but if you do need to charge in the device the Obelisk 200 has balanced charging and Type C USB with 2.5A max charge rate. The Obelisk 200 also supports pass through vaping and upgrades!
---
Protections:
Overheat Protection
Low Temperature Protection
Overvoltage Protection
Low Voltage Protection
Charge & Discharge Over Current Protection
Short Circuit Protection
Low Ohm Protection
---
My Thoughts!
First I will start with the Obelisk tank which performs very similar to the Zeus sub-ohm tank with the only real difference being the bottom airflow slots rather than the leak resistance top to bottom airflow found on the Zeus. Both supplied coils I have used before and the 0.2ohm single mesh which gives a very open draw is good for flavour but liking more restriction I much preferred the 0.4ohm coil at 50w with airflow just a third open for a quite loose RDL draw, almost a semi restrictive draw, the flavour with this coil I also found to be above average and superior to the 0.2ohm coil which I found best with half airflow and at 70w but just not the way I like to vape, just too open and shutting the airflow down further doesn't suit the coil head, it also needs mentioning i found the tank to be quite loud! The main feature is the Child lock feature which some will like and some would prefer the bayonet standard fitting Geekvape usually employ! I just don't use sub-ohm tanks as I find they give far too much air for my liking and I prefer more modest wattage, the only niggle I found was the drip tip could get in the way when filling using some bottles which meant the dip tip needed removing first!
If you like how the Aegis operates and it's menu system then you will be pleased the Obelisk 200 is navigated the same way with performance to match. Love the fire button (nice and clicky), response and ramp up is as good as on most devices, of course you also have the VPC mode if you want a bit extra power up front before tapering to the wattage you require!
I really like the compact size and styling of the device and during testing i had no issues whatsoever, although i am not a big fan of detaching bottom battery panels it does fit securely so not a deal breaker! The device has a cleverly implemented curved extension either side where the atomiser will sit allowing for a 26mm without overhang rather than 24mm as this is a small device which is another pro. Although I would always encourage external charging we have balanced charging, Type C connection with 2.5A max charge rate, the device also supports pass through vaping and upgrades!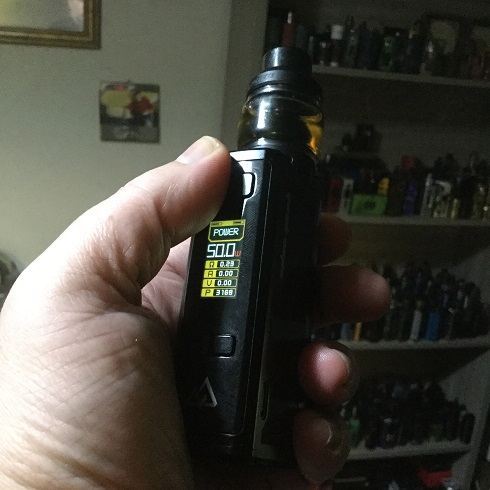 ---
Likes
From Geekvape and not an Aegis (Nice change)
Brand new design
Well made, solid device
4 colour options
Very small dual battery device
Only 110g
Ergonomic
Really like both mushy and clicky buttons
Bright, sharp colour display
Brightness can be altered
Display colour can be customised
Display and navigation the same as on the Aegis (people like familiarity)
TC Modes (not tested)
Curves and Bypass Modes
Type C USB 2.5A charging
26mm tanks fit without overhang
Child lock feature
Good flavour from both coils
5.5ml Capacity
Supports pass-through and firmware upgrades
Cons
Need to remove drip tip to fill with some bottles
Tank quite loud
Not a fan of detachable battery panel
Side panels fingerprint magnets
I would once again like to thank Allison for supplying the Obelisk 200 Kit for the purpose of this review, thanks for reading and stay safe!
---