Hi Vaping Community, In this review i take a look at the Obelisk 120 FC Mod from Geekvape. The GeekVape Obelisk 120 FC Mod was supplied free of charge for the purpose of this review by Sourcemore.
GeekVape Obelisk 120 FC Mod 120W 3700mAh Vape Mod
Introduction
Geekvape have been on the block for a long time but over the last 3 years have been known for their multiple Aegis devices and Zeus atomizers with most other products released under the Digiflavor brand.
Bearing that in mind it's nice to see a complete new range of devices that are not IP67 and don't bare the Aegis name, don't get me wrong quite rightfully the Aegis devices with their IP67 rating are popular it's just nice that they are now manufacturing an alternative range as i am sure most don't want every device they own to look like a tank going into battle!
The Obelisks keeps the familiar display and user interface but aesthetically it's an all new look and here the 120FC version that i am looking at offers 65W PD Fast Charging capabilities allowing the 3700mAh internal battery to be charged in just 15 minutes! We also have OTG mode which allows the device to become a power bank! The Obelisk 120FC also has all the usual modes, Power, TC-SS, TC-TCR, VPC (power curve) and Bypass.
The 120FC is available as just the device (what i received), in kit form and with or without the 65W PD Fast Charger which makes sense as some people might have an adaptor already with the correct specifications! Less of my waffle and let's crack on!
---
In The Box
Contents:
1* GeekVape Obelisk 120 FC Mod
1* USB-C to USB-C Charging Cable
1* Warning Card
1* Warranty Card
1* Manual
---
Aesthetics and Ergonomics
The Obelisk 120FC came in the usual Geekvape style of cardboard box packaging with outer cardboard sleeve with raised picture of the device in the chosen colour on the front and specs etc on the reverse. I received the Blue version, the options are Silver, Blue, Gunmetal or Black.
Either side we have a large rectangular panel which is made from 4 layers with the final top layer giving a mirrored look, it sounds similar to the IML process apart from on this i have noticed both fine scratches can appear and fingerprints, on the vertical towards the front at the top on each mirrored panel we have "geek vape" with a mirrored Silver finish!
Unlike on the Aegis the front panel is curved and instead of a light switch style fire button we have an horizontally positioned rectangular fire button which protrudes nicely and is both mushy and clicky. Below we have the screen followed by the horizontally positioned navigational rocker which again protrudes nicely and has the same mushy and clicky feel as i found with the fire button, finally below the rocker we have the Obelisk logo.
The spine is curved with spaced vertical corrugations and moving to the base we have safety stamps and branding. Moving up top we have Stainless Steel with a brushed finish rather than a plate and the threading is directly machined into the Stainless Steel top, the brushed finish will help hide any scratches caused by attaching atomizers, the 510m is Gold plated and Spring loaded.
The device is comfortable in the hand and with it's Aluminium construction is much lighter than i expected, build quality is good but i have got my suspicions the paint finish possibly will not stand up to much wear and tear, just a hunch it just reminds me a bit of a Smok paint job from a few years ago, I might be wrong and hopefully I am!
---
Obelisk 120 FC Mod Specs and Features:
Dimension:82.548.427.0mm
Main Construction: Aluminium Alloy
Power Output: 5-120W
Temperature Control: 200℉-600℉/100℃-315℃
Working Mode: Power/TC-SS/TCR/VPC/Bypass/OTG
Built-in Battery: 7.4V,2×1850mAh,13.69WH
Fast Charging: 65W PD Fast Charging (20V/3.25A,15mins), over 300 Times Cycle Charging
Regular Charging: 5V, Max 2A
OTG Reserve Charging: 5V, Max 2.4A
(Auto Stop Charging, Back to Previous Working Mode)
Longest vaping Time: 10S
working Temperature: -10-60℃
Display Screen: TFT 0.96-inch Colour Screen
Charging Port: USB-C
The World's First Vape with Safe Fast Charging
Directly charge a 3700mAh vape in 15 minutes
Colour: Silver, Blue, Gunmetal, Black
---
Display
The display is very bright and sharp as well as being very familiar if you have some of the Aegis devices that tend to use the same display and menu system. Everything is lined up vertically so up top we have the mode, then underneath the battery status bar followed by either wattage, temp or voltage depending which mode you are in.
In the lower section we first have resistance followed by amps, then voltage and finally the puff count which shows vape duration while firing!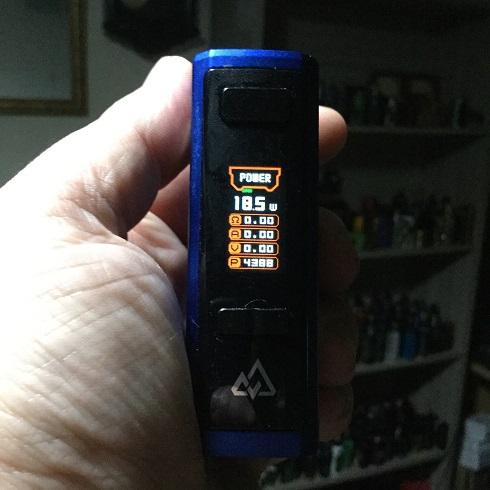 ---
Operating The Device
The Obelisk 120FC is the usual 5 clicks of the fire button to turn on and 5 clicks to turn off, once on holding both + and - sides of the rocker at the same time locks the navigational rocker but the device will still fire. The brightness percentage of the display can also be adjusted by either pressing fire and left together to decrease or fire and right to increase!
3 clicks of the fire button highlights the mode which can then be changed by using the navigational rocker, the modes are Power, TC-SS, TC-TCR, VPC (power curve), Bypass and OTG.
When the mode can be changed via the navigational rocker a press of the fire button will take you to any item on the screen which can be altered in turn so for example when the screen is on power but still highlighted then a press of the fire button will highlight Puffs and pressing - will reset them, when TC-SS is highlighted for example it works the same way and you have options to resample and lock resistance. Also when a mode is highlighted pressing both sides of the navigational rocker now instead of locking changes the colour of the accents on the display, each press changes them to a new colour, the options are Orange, Yellow, Blue, Light Green or Purple!
When VPC (power curve) is highlighted each press of the fire button allows the next section of the curve to be altered using the navigational buttons and when finished holding fire for 2 seconds sets the curve!
On the normal working screens the wattage can be adjusted from 5w to 120w in 0.5w increments with single presses or 1w increments with an adjustment button held down, it scrolls quickly and round robins. Again in TC the temp round robins between Celsius and Fahrenheit with Celsius adjusting in 1 degree increments while Fahrenheit adjusts in 5 degree increments. The final mode is OTG which will be explained in the next section! That's it although the Obelisk has the fast charging capabilities and we find added to the menu system OTG mode it's identical to most Aegis devices in both look and operation!
---
OTG Mode
OTG Mode essentially turns your device into a Power Bank so you can use it to charge other devices. Handy if you have plenty of charge on your device but something else you have on you is running low on charge, of course it will need a Type C USB connection port also!
So 3 clicks of the fire button to highlight mode and then press the right side of the rocker until you get to the OTG mode then select, plug in the cable between the device and what needs charging! When in OTG mode It charges other devices up to 2.4A max!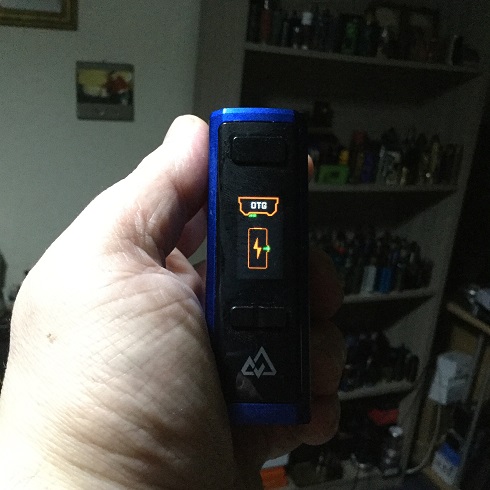 ---
Charging
The device has type C USB and a normal charging rate of 2A so even if not charging with the available Fast charge adaptor or alternative power breaker adaptor with the specifications needed this still charges in about 1hour 45mins which is quick compared to most devices. The main feature of this device however and what the "FC" stands for is it's "Fast Charging" capabilities when used with the 65W PD fast charger which will charge the device using 20V/3.25A rate in just 15 mins!
The adaptor is included with some versions as mentioned earlier but is also available as a separate purchase! I received the mod only from Sourcemore so the device linked does not come with the fast charging adaptor but luckily Geekvape sent me one so i could still test the fast charging capabilities!
---
65W PD Fast Charging Wall Adaptor
Geekvape Fast Charger for Geekvape Obelisk
Contents:
1 x Charger
1 x Wall Adapter (US/UK/EU/AU Plug)
Parameters
Type: Wall Charger with Interchangeable Adapter (US / UK / EU Version)
Output Voltage: 5V, 3A/9V, 3A/12V, 3A/15, 3A/20V, 3.25A
Input Voltage: 100-240V
Fast Charging Protocols: Support PD2.0, PD3.0, QC2.0, QC3.0, QC4.0
Certificates: CCC, UL/CUL, FCC, CB, CE, SAA, RCM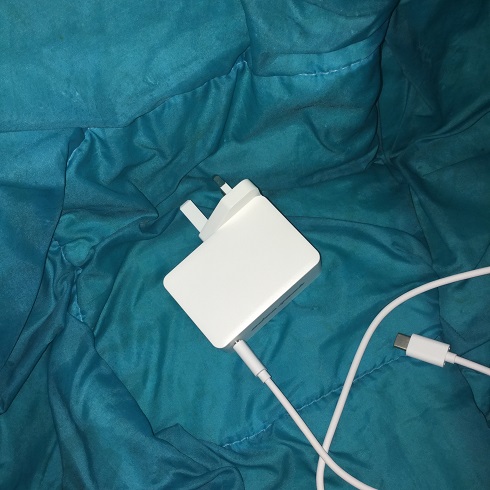 ---
Using with the Fast Charge Adaptor
Plug one end of the USB connector into the wall adaptor and plug into the wall socket and the other into the Obelisk 120FC. The device will detect that 65W PD Fast Charging (20V/3.25A) is available and will display the fast charging screen which does look a little different and it gives a good idea of just how quick the charge rate is as the percentage charge zooms up before your very eyes, very impressive and unbelievably it still supports pass through while on fast charge.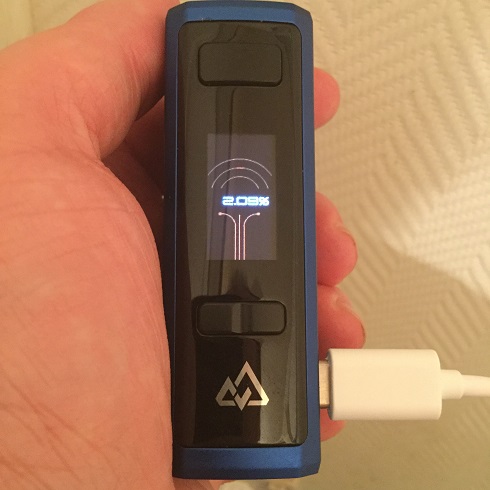 The charge will automatically stop and the screen will go off once charging has completed and if unplugging immediately after charging it is noticeable that both the charging adaptor and device is a little toasty but not to the extent that it gave me any concern! For those like me who thought the 15min claim is the usual marketing exaggeration you will be pleasantly surprised as it seemed about 15mins each time and the one occasion I actually watched over it and timed the charging process the whole charge took just 13mins 48seconds!
The only thing i picked up on is that a point is made of 300 or more cycles using fast charging when the amount of expected cycles for an internal battery isn't usually mentioned which does make me wonder if constant use of fast charging might deteriorate the battery at a faster rate than using the 2A standard charging option, but i am just reading between the lines!
---
Protections:
Overheat Protection
Low Temperature Protection
Triple Overvoltage Protection
Low Voltage Protection
Charge & Discharge Over Current Protection
Short Circuit Protection
Low Ohm Protection
---
My Experience Using The Obelisk 120 FC
First thing that does need pointing out is the linked device does not include the fast charger adaptor although there are versions available that does and it is available separately so do your homework first on whether you need the charger and which version is best for you.
Luckily Sourcemore have included a coupon code for this device for me to include because one con is at full price this is not cheap and again remember this is the version without a charger although by using the code and buying the charger separately does with that code become a cheaper option than buying the kit with everything included!
If you like how the Aegis operates and it's menu system then you will be pleased the Obelisk is navigated the same way with performance to match. Love the fire button, response and ramp up is as good as on most devices, of course you also have the VPC mode if you want a bit extra power up front before tapering to the wattage you require!
Absolutely no issues when testing the device, it's a trooper and the 15 minutes to charge is a wow feature although not too sure if charging this way continuously could deteriorate the battery quicker, again I honestly don't know but just reading between the lines gives me a hunch it might. I suppose after the novelty wears off the sensible thing to do is to charge at 2A when there is no rush knowing you have the 15 minute fast charge in the locker when needed! I didn't use the OTG mode as apart from vaping stuff i am not really a tech head so don't have gadgets that need charging but the whole Power Bank option as been seen before on devices and does sound a useful feature.
Really apart from not being over confident about the durability of the paint finish i have no real issues although those with OCD need noting the side mirrored panels are fingerprint magnets. It will hold up to 26mm tanks without overhang and for a 3700mAh device is a nice size and weight!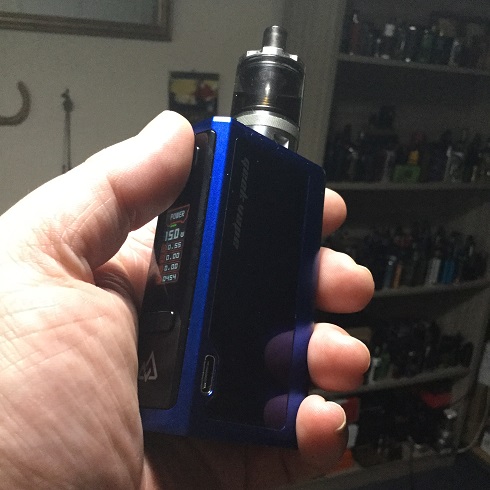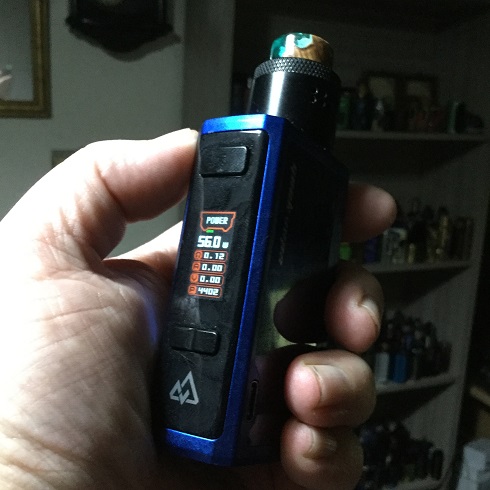 ---
Likes
From Geekvape and not an Aegis (Nice change)
Brand new design
Well made, solid device (see concerns about paint finish)
4 colour options
Nice size and weight
Ergonomic
Really like both mushy and clicky buttons
Bright, sharp colour display
Brightness can be altered
Display colour can be customised
Display and navigation the same as on the Aegis (people like familiarity)
TC Modes (not tested)
Curves and Bypass Modes
Type C USB 2A standard charging
65W PD Fast Charging with suitable adaptor
OTG Mode, use device as power bank
26mm tanks fit without overhang
Supports pass-through and firmware upgrades
Cons
Not the cheapest of devices (included code helps)
This version does not include fast charge adaptor
Not certain about durability of paint finish (just a hunch, only time will tell)
Continuous fast charging "may" deteriorate battery quicker (just reading between the lines)
Mirrored panels are fingerprint magnets
I would once again like to thank Sourcemore for supplying the GeekVape Obelisk 120 FC Mod for the purpose of this review, thanks for reading and stay safe!
GeekVape Obelisk 120 FC Mod 120W 3700mAh Vape Mod
$45.99 GeekVape Obelisk 120 FC Mod
Code: OFCM
Disclaimer: I am not affiliated with Sourcemore or benefit in any way from the use of the above code but was asked if i would include it in my content!
---