Hi Vaping Community, In this review i take a look at the iStick Power 2C 160W Box MOD from Eleaf. The Eleaf iStick Power 2C 160W Box MOD was supplied for the purpose of this review by Sourcemore.
Eleaf iStick Power 2C Mod 18650 160W Box Mod
Introduction
Eleaf are one of the oldest vaping manufactures and along with Wismec and Joyetech make up the Jwei Trio! They are most known for their iStick series which have different ranges including the much loved Pico, the iStick mods and here we have the follow up to the iStick Power after what must be approaching a five year gap!
As the name Power suggests the iStick power 2C is a power only device (so no TC settings) which comes with wattage, smart and voltage modes. The device is powered by dual 18650 batteries and outputs up to 160 watts although there is a lower powered in-built battery version. The main accents on the large coloured display can be customised to be one of 4 different colours and for those that need to charge in the device we have Type C and a 2A charge rate!
Eleaf products tend to be classed as budget yet are known for their reliability in both performance and durability, let's check out the iStick Power 2C in more detail!
---
In The Box
Contents:
1 x iStick Power 2C Mod
1 x Type-C Cable
1 x User Manual
1 x Warranty Card
---
Aesthetics and Ergonomics
The iStick Power 2C came in sturdy cardboard box packaging with outer cardboard sleeve which has a raised picture of the chosen colour on the front and contents, information etc on the reverse! I received the Blue version which has a large upper Blue leather spine section and smaller Brown Leather lower spine section, the options are Light Brown, Blue, Red, Dark Brown or Black. Apart from the Black which has both upper and lower Black leather spine sections all other colours have a different colour lower spine section to the upper section which is the colour of choice!
The device is constructed from Zinc Alloy and has a classic C frame design with curved frontage and bevelled edging leaving zero sharp edges! The spine sections which wrap around to cover most of the sides are well padded and despite the spine not being particularly curved it's comfortable in the hand. The device feels pretty much a medium weight so definitely can't be described as lightweight but not particularly heavy either. The two leather sections have stitching which adds aesthetic detail and on the frame one side we have "eleaf " and on the other side "iPower" both of which are in a signature looking font, on the side which has "eleaf" printed below in a vertical position we have the Type C USB connector!
The face of the device has a large, proud protruding curved fire button towards the top with a large colour display below. Below the screen we again have a proud, large horizontally positioned navigational rocker. Up top set to the rear we have a small air fed plate with Gold plated, spring loaded 510. Moving to the base we have the hatch battery door with safety stamps and 3 venting holes.
Although Eleaf devices are still budget priced over the last couple of years the build quality has improved considerably and the iStick Power 2C is a very solid, well made device and aesthetically pleasing to the eye in my opinion!
---
iStick Power 2
Just worth mentioning as well as the dual 18650 iStick Power 2C which has a max wattage of 160w there is also the iStick Power 2 which has a 5000mAh in-built battery and top wattage of 80w. Apart from the inbuilt battery and lower top wattage the two devices are operated exactly the same!
---
iStick Power 2C Specs and Features:
Dimensions: 52.8mm X 25mm X 86.5mm
Materials: Zinc Alloy, Leather
Battery Type: Dual 18650 (Not included)
Output Wattage: 1-160W
Output Wattage: 1-8V
Resistance range: 0.1-3.0Ω
Screen: 0.96"color display
Charging Current: 5V/2A (USB-C)
Smart Avatar chip: WATTAGE/SMART/VOLTAGE modes
Four different Colour Display Options
Thread: 510
Colours: Light Brown, Blue, Red, Dark, Brown, Black
---
Fitting The Batteries
The iStick Power 2C accommodates dual 18650 batteries that get fitted via the hatch door on the base of the device, just slide the door forward and lift up, we also have 3 venting holes. Orientation is vibrantly labelled at the bottom of the tubes and also embossed on the contacts underneath the hatch door where we can also see the batteries labelled A & B in bright White!
When the door is secured we have no movement or battery rattle whatsoever, i know over time some people have experienced this type of battery hatch door opening during use but only time will tell, certainly during my testing it was absolutely fine.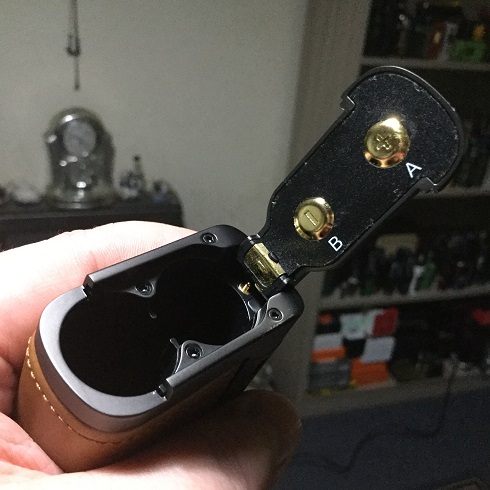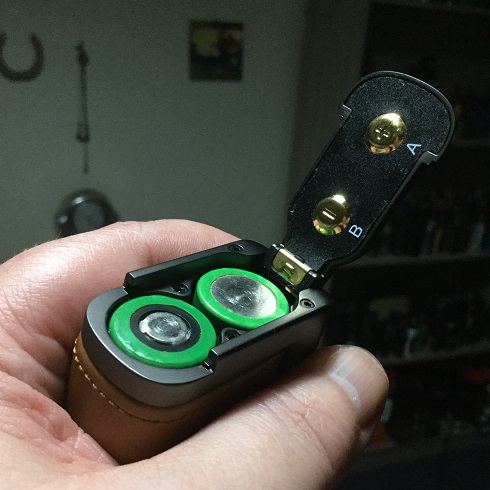 Although i would always recommend charging in an external charger if you do need to charge in the device i am pleased the Power 2C has a Type C USB connector and 2A charge rate. During internal charging a progress bar is shown for each battery and the charge given for each one as a percentage, the device supports both pass-through and firmware upgrades!
Note: On the above picture only one charging progress bar is shown as it is the Power 2 and not Power 2C version!
---
Display
The iStick Power 2C has a large colour display with nice layout and everything can be easily read, it can also be changed in appearance with a choice of 4 different colours for the main display accents!
At the top starting from the left we have the 2 (one for each battery) battery status bars labelled A & B, to the right of the status bars we have a padlock which will be in either an open or locked position depending on status.
Next we have the wattage or voltage depending which mode you are in, underneath the wattage or voltage we have a wavelength graphic which is animated when firing but is just for aesthetics and doesn't actually relate to anything but kind of cool if you like that sort of thing! This is followed by the mode and then underneath the resistance and finally at the bottom your puff information, to the left your count and to the right the duration of your puff!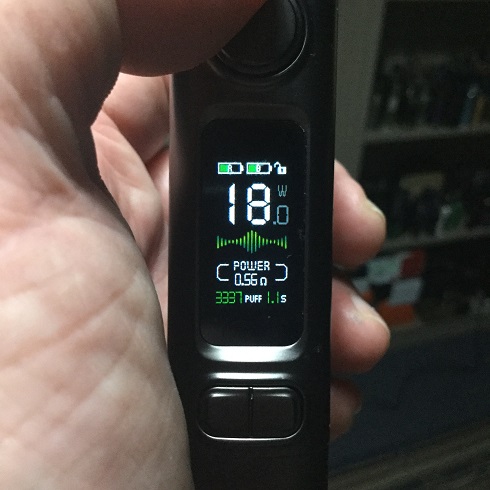 ---
Operating The iStick Power 2C
The device is the usual 5 quick clicks of the fire button to turn on and again 5 clicks to turn off and once on 3 quick clicks locks the navigational rocker but the device still fires! To also point out when installing a new atomiser a screen comes up with the resistance and a best from and to recommendation, this screen stays on for a couple of seconds before going back to the main working screen.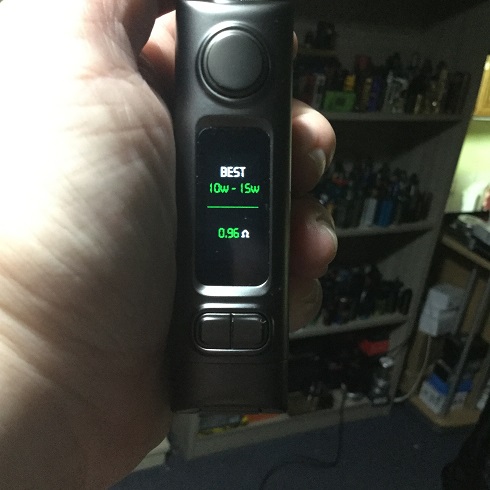 To enter the menu is pressing both sides of the navigational rocker at the same time which brings up icons lined up vertically which can be scrolled through, all menu screens are done in this format and what i really like is as you scroll down the icons only the one that can be selected is highlighted so you are not going to select the wrong icon in error! The icons in this first tier of the menu are for Mode, Puff, Colour, Default, ID Check and Exit.
Obviously Exit, Default and ID check are straight forward so need no explaining. When choosing Mode you get more icons appear which are Wattage, Smart and Voltage, Wattage and Voltage are standard variable wattage and variable voltage modes while Smart is variable wattage but only allows the wattage to be set to a max wattage output to suit the resistance of the coil installed! When in Wattage mode the power can be adjusted in 0.5w increments from 1w right up to 160w but doesn't round robin, in Voltage mode the power can be set from 1.0V up to 8.0v in 0.1v increments and again it doesn't round robin! When you select Puff a 7 day puff monitor appears on the screen, it also has an option to reset the puff count.
Finally that leaves the Colour option which when selected allows you to chose between Blue, Green, Purple or Red, whichever colour you select the main accents on the working screen will be in that colour! That's it, no TC, curves or other settings which many people never use, just a basic user friendly board which many power only users will prefer!
---
Protections:
Over-charge Protection
Over-discharge Protection
Over-current Protection
Over 10s Protection
Short Circuit Protection
Reverse Polarity Protection
---
My Experience Using The iStick Power 2C and Thoughts!
You know you are going to get a lot of bang for your buck with Eleaf and nothing different here, a very solid, well made device which is inexpensive yet despite the price tags Eleaf devices are known for their reliability in both performance and durability!
So is there anything to be aware of? Well it does only hold up to a 25mm in diameter atomiser without overhang which in my opinion would be fine for a single battery device but those who like to use large atomisers on dual battery devices, this isn't for you! Also it needs bearing in mind this is a power only device so no TC and it also has no bells and whistles features such as curves but then a lot of power only users much prefer a device to be as simple as possible so a pro for many! I myself have never had any issues with the type of battery door on this device but i know many have with certain devices, this door seems absolutely fine to me but i guess only time will tell! The only other more petty con for me is when adjusting both the wattage or voltage it doesn't have a round robin feature although it scrolls very quickly and i do like the 0.5w increments for wattage adjustment!
The device looks great in my opinion and despite not having much of a curved spine the heavily padded leather and curved, large, proud fire button still allows this to be ergonomic to both use and hold. All buttons are very clicky with little in the way of travel and when it came to firing i detected no delay and ramp up was as good as with most modern devices!
I like that when an atomiser is first attached it gives a recommended from and to wattage range which is handy for a newer vaper as is Smart mode which should prevent a novice accidentally frying their coil! I also like the display, that it can be customised and that it's such an easy device to navigate. I also love how the icons highlight in the menu when they become selectable. Those that like to keep info on their puffs will like that this has a four figure puff counter and 7 day puff monitor which doesn't reset when the device is either switched off or the batteries removed!
If you do need to charge your batteries in the device the iStick Power 2C has a Type C USB connection port and 2A charge rate, it also supports both pass-through and firmware upgrades!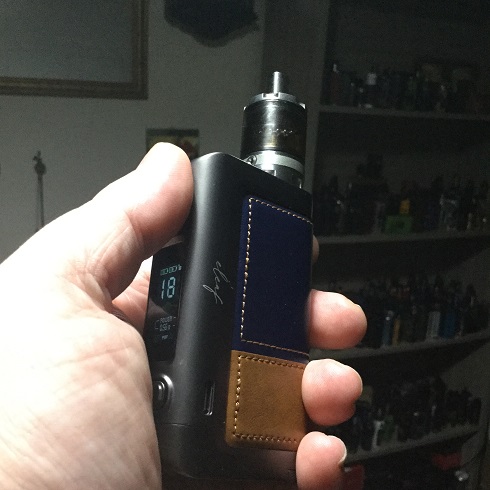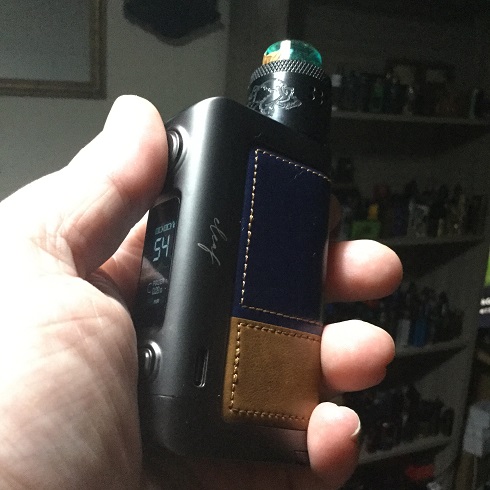 ---
Likes
Solid, well made device
5 Colour options (All frames Gunmetal)
Padded Leather spine
Zinc Alloy C Frame
Curved, large protruding clicky fire button
Equally as proud, large navigational clicky rocker
Well laid out colour display
Display colour can be customised
Gives recommended wattage range when atomiser first installed
Wattage, Voltage and Smart Modes
No rattle whatsoever even when vigorously shaking device with installed batteries
Selectable icon highlights (menu system)
Very easy device to navigate
Simple power only so no TC or extra settings (Pro for many but also see cons)
4 figure puff counter and 7 day puff monitor
Type C USB
2A charge rate
Supports both pass-through and firmware upgrades
Cons
Atomisers over 25mm will overhang both sides and back of device
No TC settings or bells and whistles features such as curves (only a con for those that use these features)
Some might not like the style of battery door (Seems fine in my opinion but only time will tell)
No Round Robin feature
I would once again like to thank Sourcemore for supplying the Eleaf iStick Power 2C Box Mod for the purpose of this review, thanks for reading and stay safe!
Eleaf iStick Power 2C Mod 18650 160W Box Mod
---