Do you keep the cotton you cut off when doing a build or do you bin it?
O yes I have a nest rda from Nature vape (the og rebuildable mesh coil) why throw away good cotton
I've just always thought what a nightmare it would be feeding cut offs of cotton through coils and binned it…
That's because you vape pretty much the same way with the atomizers you have but when you get some more funky atomizers @LEED gave a good example you then have things that get wicked differently and ends can come in handy!
Maybe I should start keeping the cut-offs then.

I short wick my Goon, using scraps for flavor testing.
If I have like 1.5" left over that's enough for ANOTHER tail, in my small tanks !!!
I've started a scrap cotton tub so will keep all the cut offs in future in case they come in handy with some rda or something in the future.

Glad I started collecting the bits, I've rescued all this in the 5 weeks since creating this thread.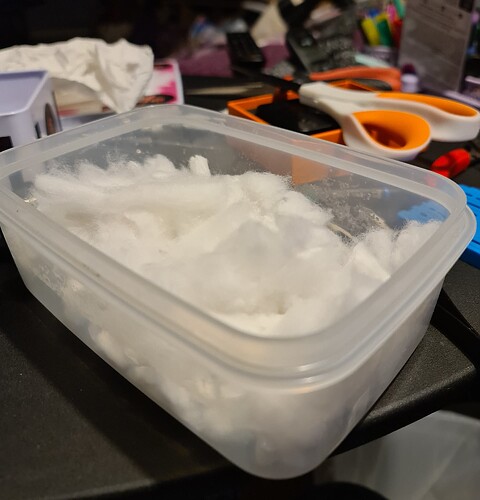 Keep going like that Andrew, and soon enough you'll be able to make a pillow! L O L
To be fair when I watch YouTube reviewers do a build and they use a whole cotton shoelace just for one coil it annoys me, I think it's a bloody waste of good cotton because if positioned and cut correctly they could easily wick two coils with one piece.