Hi Vaping Community, In this review i take a look at the Siren V4 MTL RTA from Digiflavor. The Digiflavor Siren V4 MTL RTA was supplied for the purpose of this review by Allison from Geekvape.
Introduction
Geekvape's sister brand Digiflavor have a few favourite series in their camp but maybe the one which is held in the highest regard especially amongst MTL vapers is the Siren with the Siren V2 22mm version still regarded as one of the very best MTL RTA's ever to be released. There was a long wait for V3 and if that was a little disappointing to some it's been swiftly followed by the V4 which see's a radical makeover and semi-hidden bottom airflow design. The V4 comes with 2 different drip tips including the Siren style and 4 different coils, let's check out the Siren V4 from Digiflavor!
---
In The Box
Contents:
1* Siren MTL RTA V4
4* Feather Cotton
1* 510 Drip Tip
4* DIY MTL Coil
1* Spare Parts Pack
1* Tri Tool
1* Manual
---
Aesthetics
The Siren V4 came in sample packaging that consisted of a Red cardboard box with outer White cardboard sleeve, we have the "Digiflavor" logo front and contents etc on the reverse! I received the Gunmetal version, the options are Gunmetal, Rainbow, SS or Black.
The Siren V4 is a very short 22mm MTL RTA with just a narrow PEI viewing tube which is frosted on the Gunmetal and Rainbow versions but Ultem style on the Silver and Black versions! The top cap steps in and has fine aggressive knurling, we then have a very long narrow drip tip. On the main sleeve we have the "Digiflavor" logo printed on the front which looks ok in my opinion but may not be to everyone's liking. On the base section below the frosted tube and on the airflow control ring we have the same fine aggressive knurling to match the top-cap. Between the two we have an indented section which includes airflow markings and a Red dot on the AFC which can be lined up against those markings!
Moving to the base we have a Gold plated Brass pin that protrudes and printed branding and safety markings. It's a noticeably small and short RTA and in my opinion quite a looker!
---
Siren V4 MTL RTA Specs and Features:
Dimensions: 22 x 28.5mm
Capacity: 2ml
Stainless Steel
PEI Narrow Tube
Thread: 510
Filling: Top fill
Included Coil: Braided Coil(0.65Ω); MTL Fused Clapton(1.0Ω); MTL Fused Clapton(1.2Ω); MTL Clapton(1.4Ω)
GTA design deck, easy to build and trim
Semi-hidden AFC structure, precise airflow
4 Different kinds of MTL coils
Colour: Gunmetal, Rainbow, SS, Black
---
What You Receive?
As well as the Siren V4 MTL RTA with pre-installed long narrow 510 drip tip you also receive what i would describe as a Siren style shorter (but still quite long) alternative. I would imagine it's more to do with mine being a sample but the alternative drip tip didn't have the O-rings fitted so was loose but were in the bag of O-rings and spare grub screws so needed installing.
So that's the spares bag mentioned so on to the two packets of cotton and coils! One packet has 2 different 2.0ID coils which are a MTL fused clapton (1.2ohm) and a MTL Clapton (1.4ohm), you also receive 2 shoelace cotton pieces. The second packet consists of two 2.5ID coils which are a Braided Coil (0.65ohm) and a MTL fused clapton (1.0ohm), again you receive a further 2 shoelace cotton pieces, finally you receive paperwork!
---
It's Various Parts!
Up top we have fine aggressive knurling on the top cap which sounds a little squeaky when unscrewing and securing but actually feels very smooth! We have a narrow, very long drip tip pre-installed which can be swapped for the Siren style drip tip which in my opinion despite the V4 having a complete aesthetic overhaul and being much shorter still becomes visually a Siren in appearance with this drip tip installed, I like both!
The next section is all one piece which includes fill plate with two fill ports, outer sleeve, chamber and narrow PEI tube, you don't get a spare PEI tube but maybe that's because it can't be removed, at least i can't find a way of separating it from the sleeve which if is the case must be a con because if it cracks the whole top section needs replacing!
The deck section has a 2 post GTA style deck with shower head airflow holes underneath where the coil will sit. We have an AFC which can be removed which has a Red dot for lining up with the airflow markings!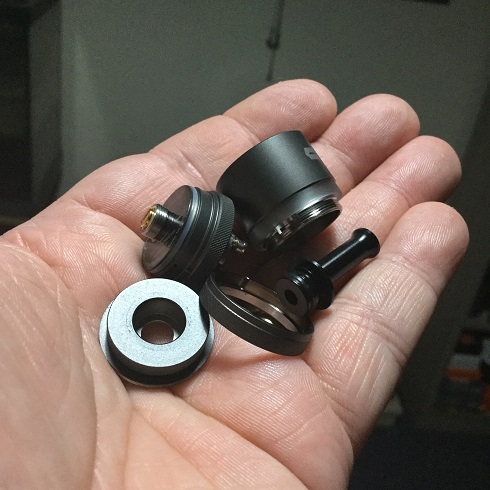 ---
Filling
The Siren V4 has a 2ml capacity and top-fill design. As mentioned even if it doesn't sound it the threading is nice and smooth and removing the top-cap reveals the fill plate to be indented allowing any spill to find it's way into one of the fill ports which are not huge but big enough for most nozzles.
---
The Airflow!
The main talking point is the airflow which consists of a semi-hidden design! When removing the airflow ring you can see notches which means everything will be lined up correctly when installed and an indented rail that adjusts against five 0.6mm airflow holes on the base section.
When the ring is installed the airflow holes are completely hidden and you adjust the Red dot on the AFC against markings on the base, essentially the higher on the scale the Red dot is positioned the more of the airflow holes (or partial holes) are exposed to the indented rail which opens the airflow! You can have just one 0.6mm partially open right up to all five 0.6mm airflow holes fully open!
---
The Deck and Build!
The Siren V4 has a GTA style deck with 2 post design, side terminal openings and Gold plated flathead screws! The wicking channels despite being a GTA style deck have floors rather than being open bottomed, those floors have 3 wicking holes in each!
Your coil leads slide into the terminals from the side where we can see the openings are curved upwards acting the same as lips in regard stopping your leads popping out while fixing in position. Use a coiling rod to place the coil in position and fix each lead one at a time holding the lead in position while tightening down from above especially if using thin wire as there is a gap between the bottom of the screw which acts as your clamp and the inside edge of the terminal! Once your leads are fastened in place use the coiling rod or fit for purpose tool to manoeuvre into the ideal position, then snip your access leads (there is plenty of room), give your coil a few low wattage pulses and strum out any hotspots!
Wicking is a doddle (in fact it's a very easy build) and is helped with those floors to the wicking channels telling you that your ends need cutting short, simply fluff up and place into the channels! Then you can prime your build and give it a few pulses to admire your work before screwing the tank together and filling!
---
How It Vapes And Thoughts!
I love this MTL RTA which is strange because the amount of cons i found leaves me scratching my head to why i like it so much, maybe i am just shallow and find to me what is it's stunning looks is ruling my head but there is far more to it than that which i will come to.
So what about those cons, well nearly all are to do with viewing the e-liquid whether that's while in use or while filling! The very narrow frosted PEI tube only allows the level to be seen when the tank is almost empty and even then only in good light, yes in decent light you can tilt and get some idea but i want to be able to just glance at a tank to see the level which isn't possible with the Siren V4! Again having mostly a metal sleeve with just the lower narrow tube means when filling you have to use the fill port you are not using to fill to judge the level which again needs good light and is far from ideal and will probably cause many to slightly underfill turning a low capacity 2ml RTA realistically into about 1.5ml to 1.75ml! Then we have the PEI tube which doesn't seem to detach from the main sleeve which is a big con for me and if it's just tight and actually does undo still a con that i would be worrying about using force to remove it. My other con is although the tolerance on the AFC is spot on it won't turn while on the device so if I want to adjust airflow during use i need to first remove it from the device which is annoying!
So why do I like it so much other than it's good looks? Well firstly it's that semi-hidden airflow design which is so well thought out and allows the precision of the airflow setting to be as precise as with atomizers that come with inserts that need fitting. Next is smoothness which is something that is very important to me, the acoustics of the tank allows for the crackle of the coil to be easily heard but to a background of silence as this gives such a silky smooth and silent draw. Next is it's credentials as a true MTL RTA with airflow going from extremely tight up to a loose MTL but not over loose so you would need this fully open and to use a wider bore drip tip to have any chance of a RDL draw! The build and wicking is straightforward and I have had zero leaking which surprised me along with just how tight this will go bearing in mind we have a showerhead airflow outlet under the coil which usually does restrict just how tight the draw can go and also can be prone to leaking, so both surprised and very happy!
I also like both drip tips and that you get 4 different coils plus 4 shoelace cotton pieces and then we come to flavour which is as good as with my other very best MTL RTA's like the Bishop and Glaz Mini, this has particularly been excelling with Bakeries, Desserts and Fruits!
So to sum up, despite being aesthetically so different, much shorter and with a different airflow design we have a Siren which is a worthy successor to the Siren V2 22mm MTL RTA, it's been a long wait!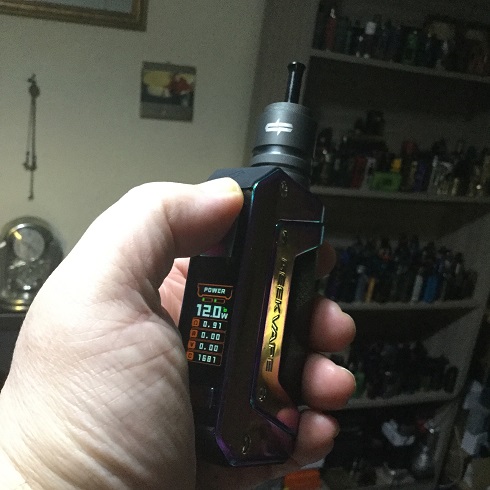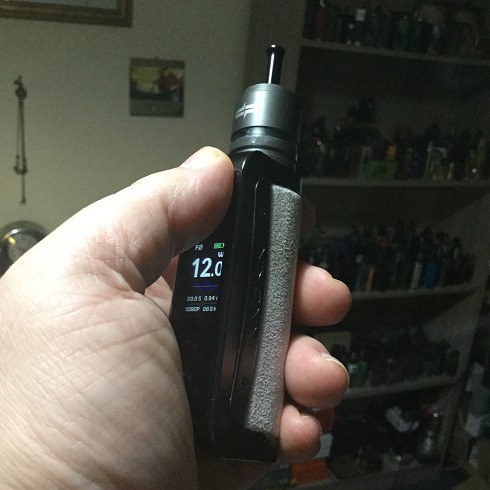 ---
Likes
Stunning and cute looking (in my opinion)
22mm and short (usually is a recipe for flavour in my experience)
4 Colour options
Semi-hidden airflow design
Precise airflow adjustment
True MTL RTA, extremely tight to loose MTL
Smooth top cap threading
Easy build and wicking
Super smooth draw
Quiet apart from crackle of coil
Excellent flavour
Zero leaking or flooding
Wicked like a dream
Includes 2 narrow drip tips (like both)
Includes 4 different coils and shoelace cotton
Cons
Can't detach PEI tube from main sleeve
Difficult to see juice level during use
Difficult to see juice level when filling
The above can mean under filling what is a low capacity tank anyway (2ml)
Can't adjust airflow ring with the tank on a device
I would once again like to thank Allison from Geekvape for supplying the Digiflavor Siren V4 MTL RTA for the purpose of this review, thanks for reading and stay safe!
---