I didn't scour the web, looking for answers…but since when are US vape companies allowed to ship via USPS?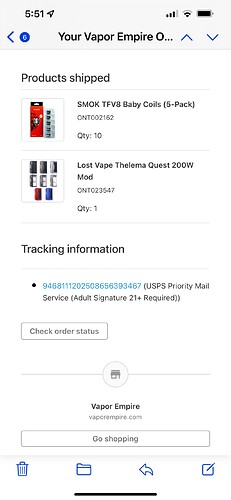 LOL, you gotta love it. I'm starting to think that the USPS is who pushed the "Signature Required" thing.
Some places just dont care, no one is really checking. After all you can order from overseas and no one charges a adult sig, or even cares. USPS is not checking packages, nor do they have time.
Same in UK with TPD regulations! From day one I Always ordered the standard rather than TPD edition and even packages that were checked for whatever reason it became obvious they didn't give a monkeys about the regulations because nothing ever got stopped. Within a year of the regulations most UK online sites offered both TPD and standard versions of products in fact sometimes they only stock the standard so it's just not policed, after all with all the problems in the world why is anyone going to give a s**t if my RTA holds 4ml rather than 2 or the box wrongly states the product contains nicotine!
Still hooked on those Smok Baby coils, you can't of tried a Freemax tank that's for sure!
No…pretty big difference? I think that's what @Rocky02852 uses, Tim.
I bought a dozen Smok kits over time, after putting cigs down, so, I just keep feeding them.
Yeah a human instinct to stick with what we are familiar with! Those coils do give very decent flavour to be fair but the Freemax coils for either the MPro2 or Fireluke series are different league for flavour, don't give any leaking and although 3 coils cost as much as 5 Baby Beast coils they will comfortably out last them!
Some places just don't care if it's technically allowed or not. It's more of a don't ask, don't tell type of thing. As long as you don't specifically tell USPS that the package contains vape products, they will ship it for you.
So, how come when I recently went to Steam Crave and tried to order something I got a message saying sorry can't ship to you.
From what I see, David, they are no longer shipping 'mods' to the USA. Tanks, and supplies appear as available.