For those new here or not familiar see my post : A bizzare incident - explosion and fire - Opus Battery Charger
Having suffered the fire/explosion I set out to find a way to contain another in the rare event that it would occur again. Unfortunately I don't have data on how much force/pressure is developed in a battery explosion or test results for the strength of the metal box chosen. No amount of engineering has been undertaken so evaluate and use at your own risk if you choose to build one. I am reasonably confident that this will work though it will do little or nothing to contain smoke from a battery fire. Our batteries are made of a lithium salt paste. It ignited in a ball of flame. I lost carpet, a desk, a computer chair that began peeling, and have to paint. Damage went over 2K $. I was very lucky.
What I chose to use is an ordinary cash box I found on eBay for 15$. However, mine is beige rather than black. I recommend black because you will be drilling and its much easier to touch up paint if necessary.
While the box is steel and reasonably constructed, I don't believe that a box like this would withstand the force if an explosion occurred and it was closed. Maybe? But venting is necessary. I chose to vent this by drilling a 1.5 inch hole in each end. One is for a 40 mm usb (5v) fan. Both are baffled to prevent anything from being ejected through the vent holes. After drilling the 1.5"holes with a hole saw, I mounted the fan and for for both sides cut .125 x 2.5 x 2.5 " aluminum plates mounted with 8/32 x 1.25" screws and nuts. (once the screws and nuts are tightened a drop of super glue will prevent them from loosening)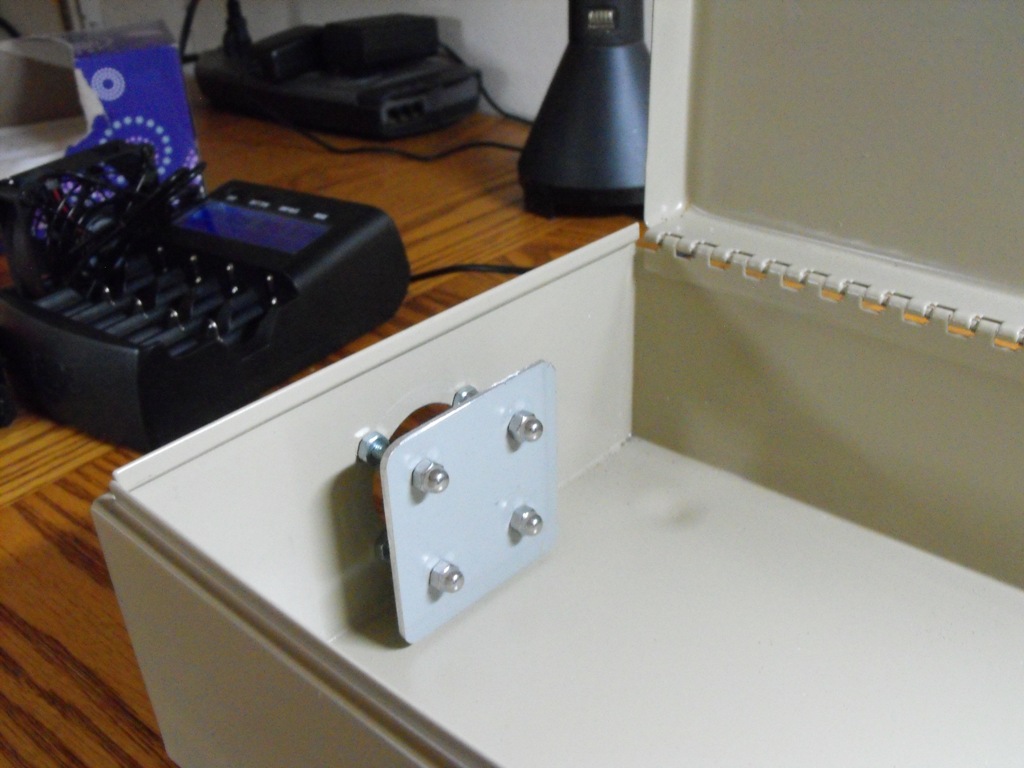 Note that in the following pics the baffle plate for the fan is not mounted. I ran out of hardware. I am reasonably confident that the hole will allow pressure from a vent or explosion to escape while blocking all else.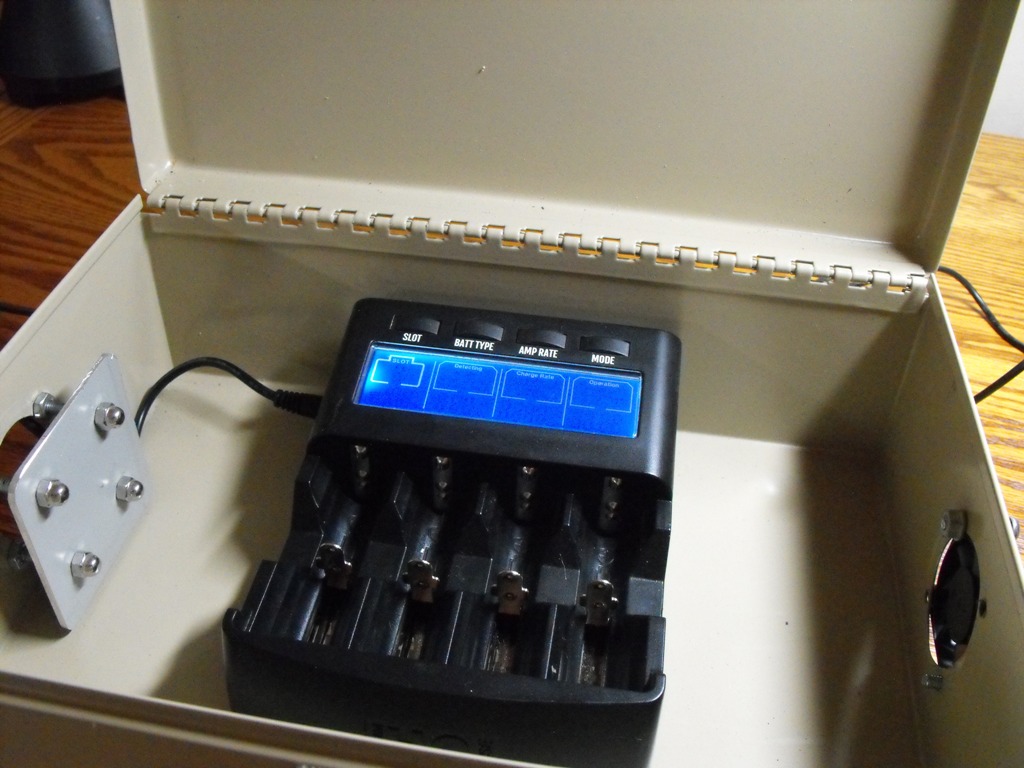 I purchased the fan from Amazon:

I bought both a 80 mm and the 40mm. IMO the 80mm is too large but it depends on what and how many chargers/batteries you intend to use. I have USB charging ports on LCD lamps used on my desk so that was convenient for me. I like the speed control and consider it necessary to eliminate fan noise. The small fan is rated for 4.4 cfm so provides more than adequate airflow for my purposes.
The power connection for the charger is simply slipped through the vent hole. Make sure you remove all sharp edges after drilling with a file or sandpaper.
Thas all folks. Simple, cheap. and an added degree of security.