Good Morning VC
Today I will be taking a look at an RTA produced by Ambition Mods in collaboration with The Vaping Gentlemen Club.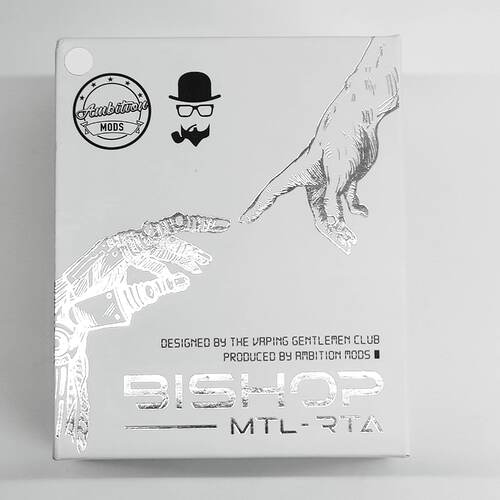 In the box
Bishop MTL RTA
Glass tank 1
PC tank 1
1.0mm air intake X2
0.8mm air intake X2
1.2mm air intake X2
Blind Air Pin part X1
Spare O-rings and post screws
User manual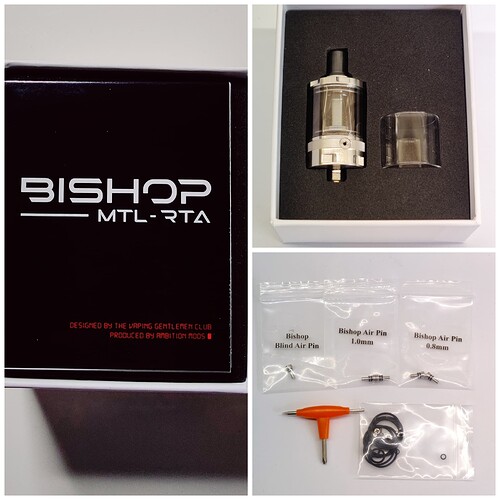 Technical specs
| Diameter | 22mm |
| --- | --- |
| Height | 50 |
| Capacity | 4ml |
| Weight | 38g |
| Filling | From underneath |
| Assembly type | Simple and complex |
| Mounting plate | Single coil |
| Range of use | Depends on assembly |
| Air intake | From underneath |
| Drip tip | 510 |
| Materials | Stainless steel, glass |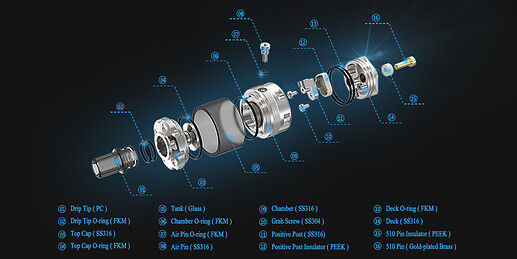 Design and Features
This SS316 22mm MTL RTA has some incorporated old-school features which you either love or hate. Either way, there is no denying the flavor you get from this RTA. Released well over a year now but with some newly released accessories which make it worthwhile revisiting. At the time the Bishop came in 2 and 4ml variants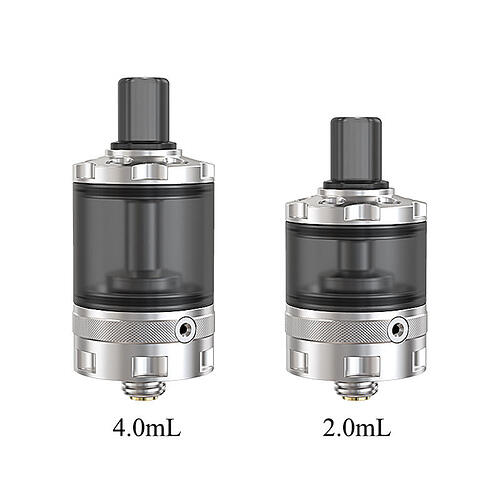 The Bishop MTL RTA comes in 3 different colours SS, Black, and Gun Metal.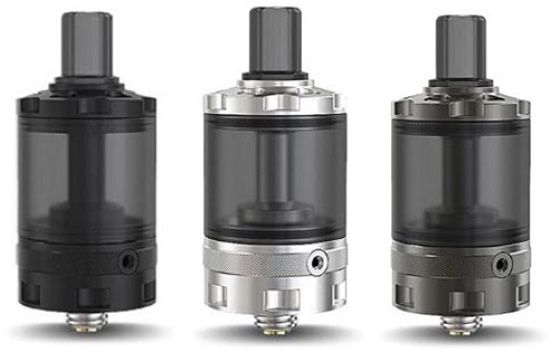 They also release a Bell Cap optional accessory available in Clear PCTG, Black PCTG, Ultem PEI with 4ml capacity for even more customization options.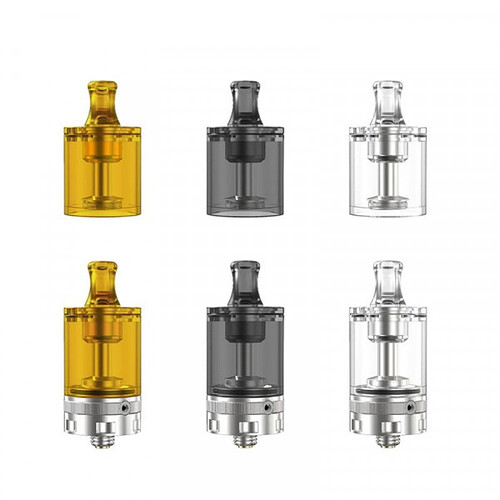 I was sent the 4ml SS version and I like how this RTA looks. From the divets and recessed knurling on the top and bottom of the tank and the knurling band which houses the two AFC intakes. And this RTA comes with a serial number that just says something. And for those vapes among us, the 510 pin is protruding so it can be used on a hybrid mechanical mod.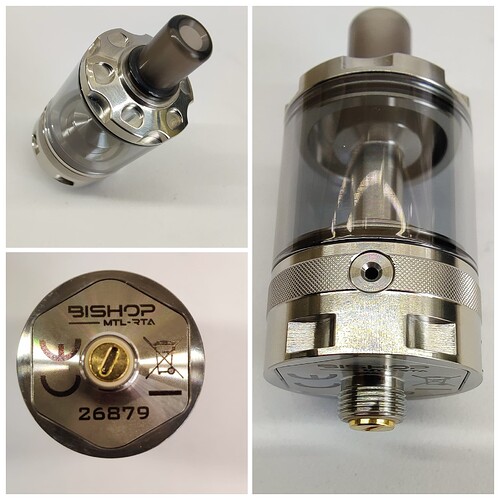 An additional Black PCTG tank glass is included and matched the drip tip however I would have liked to see an additional clear or ss drip tip to keep things matchy-matchy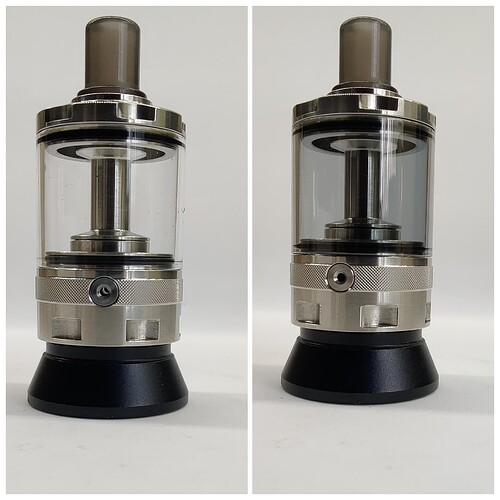 To get to the deck you simply pull on the top cap which is held in place by two o-rings. This is hand as you pull up the top of the Bishop MTL RTA, you can check the condition of your coil or cotton at a glance.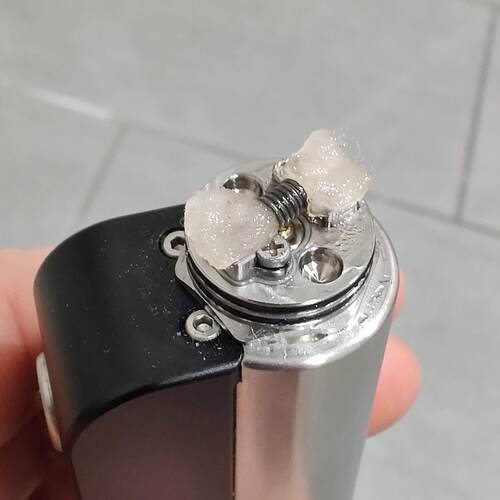 The deck consists of two opposite screw posts with a tray at either end to rest your wicks in. The tiny liquid intakes do their job perfectly, and the wick is always well soaked. The two recessed holes on the deck are to collect any excess liquid.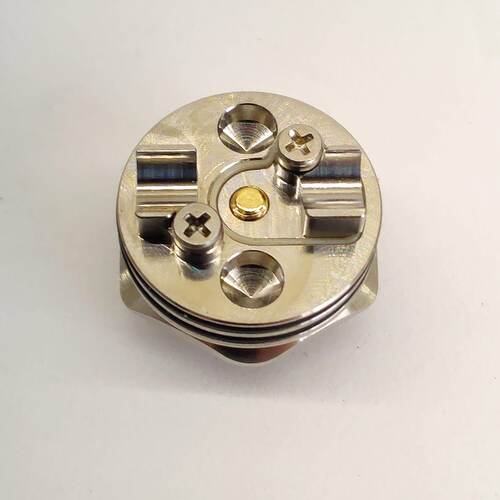 Performance
I installed a basic 2.5mm fused Clapton that came out at 0.7 Ohms and ran it at 25Watts the vape quality and flavor are fantastic! I did not have any round wire to hand to try a different build however I think I will experiment with a MTL alien coil in the future. It's a quiet RTA that delivers a smooth vape. One more thing to mention your coils need to be wrapped in an anti-clockwise orientation to fit in this deck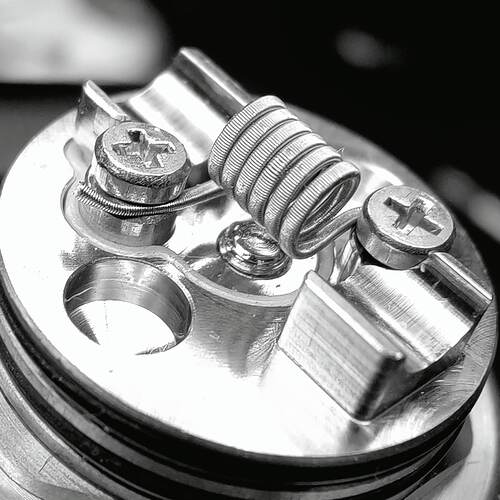 This is predominately a mouth-to-lung RTA and with the smallest 0.8mm AFC pins installed it's certainly a real MTL draw changing out the AFC pins is a sinch you simply push them out. No fear of them falling out as they are held snuggly in place with two o-rings. There is an optional 2 x 1.4mm or 2 x 1.6mm AFC pins available to purchase separately.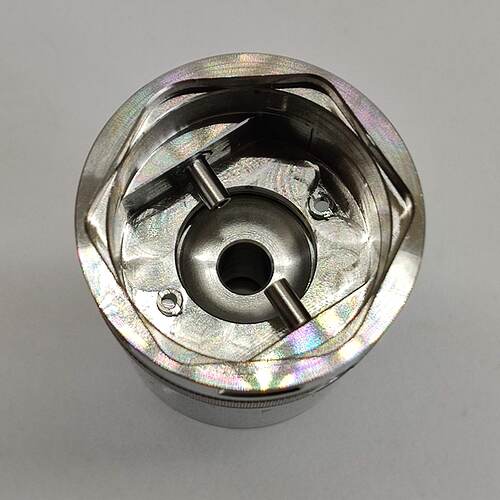 Filling the tank is done by unscrewing the tank section from the deck and filling it up from the bottom I don't mind this one bit though some people might find this a bit of a faff.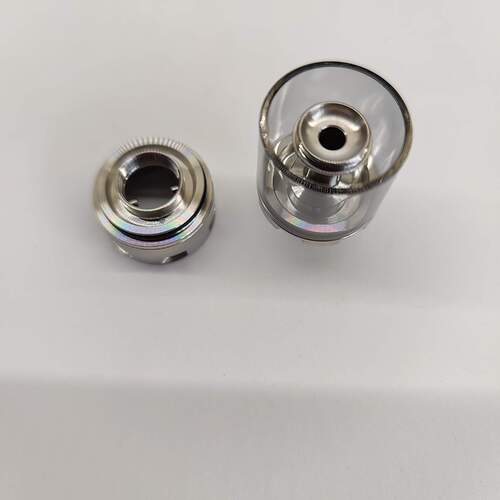 Recently Ambition Mods announced even more optional extras will be available for purchase for this RTA.
A 2ml / 4ml Combo tank section
A 4ml Replacement tank section
A whopping 6ml!! Extension tank section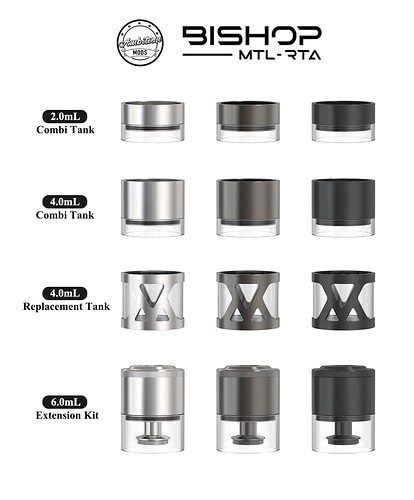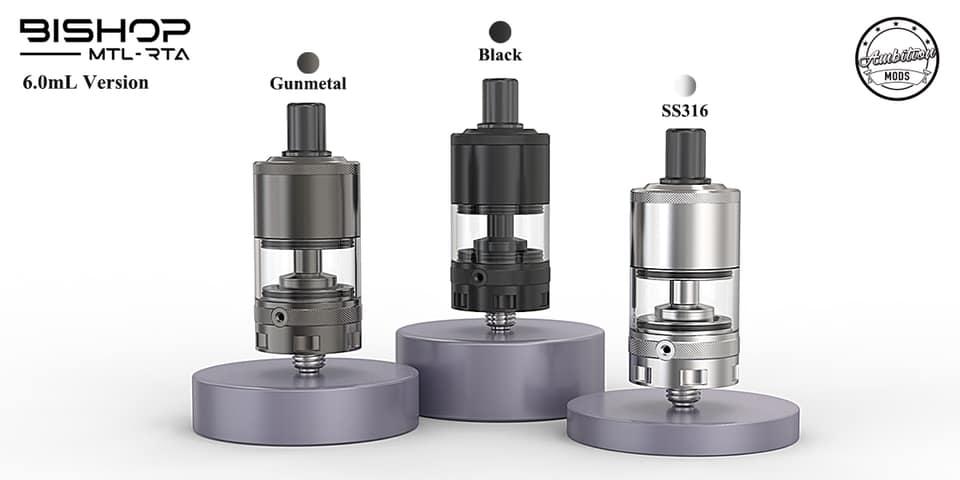 Summary
What I like
Great flavor
No leaking
Excellent MTL vape
Lots of airflow options
Design and Look
What I don't like
I would like to see an included clear or SS drip tip ( Nit picking)
The coils required are not industry standard
Overall this MTL RTA scores highly in my rating. Great looks and excellent build quality. With an incredible amount of optional extras available to purchase this RTA is a very versatile piece of kit that will look great on any mod and outperform its rivals with ease.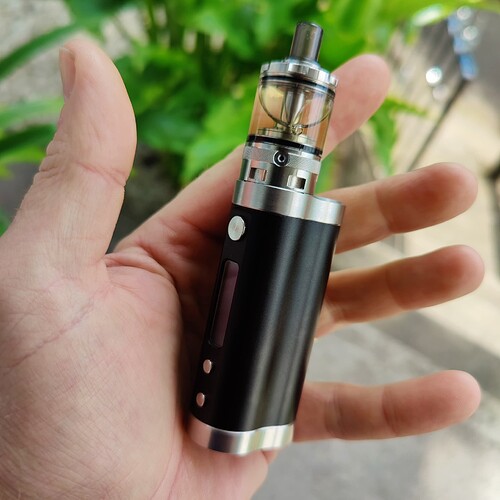 I would like to Joyi from Sourcemore for providing the Bishop MTL RTA for the purpose of this review. I would also like to thank you guys for checking out this review. If you are interested in this RTA head on over to Sourcemore and use code BIMT for a discount.