The only thing I hate more than cleaning bottles …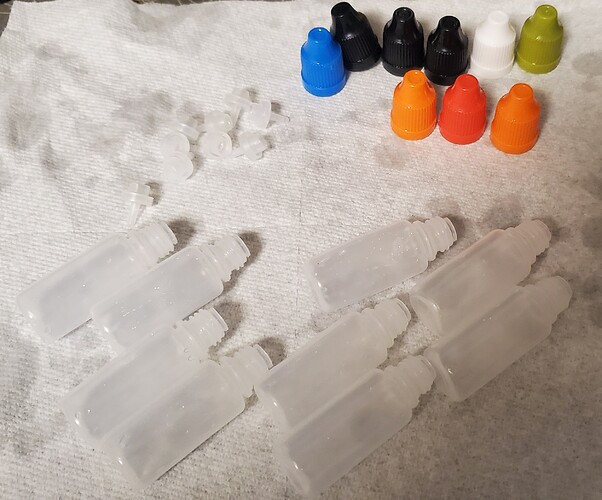 Is mixing up 12 flavor recipes from @Rocky02852…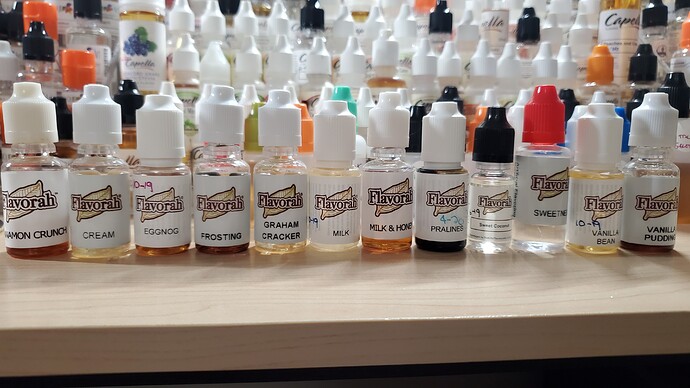 C'mon mate, you know you love it…



There you go, one emoji for each flavor to keep you entertained. I wonder if there is a badge for that!
Thats pretty brazen going from SFT's to one of My recipes Dman


Let me know if I left anything out

I'm actually looking forward to trying one of Rocky's recipes. I even purchased a few more Flv concentrates. I truly hope they last longer because of the super part.
BUTT…
This is what I hate. I hate spending more than 5 dollars for a 10 or 15 ml concentrate! I can't help it. I just can't help it.
I know right ?? !!!
SHOCKING !!!
Fresh mixed, even WITH all of it's components, it DOES present as a creamy Fried Mexican Ice Cream.
Hehe @Dan_the_Man, you remind me of ME, waaay back in the day when I was having the same hurdle for Medicine Flower. Maybe it's the term SUPER, or DUPER, or ULTRA that throws people off. The simple fact is FLV, like MF and a few rare others are STRONGER than most flavors, hence the LOW usage and price per mix. It IS very hard to RE-TRAIN yourself, if you have been mixing with NOT STRONGER flavors for a long time (like me), as your brain is already in the "Wait, HOW much for that bottle" mode. Break the chains, part with the change, and mix it up !!!
What do you think, I make this stuff up ?
(Oh yeah, actually I do

)
Finished my tester last night, and just mixed up another 30ml,
It's actually pretty damn good off the shake!

Well what's interesting about this 12 flavor hodge podge is, it just freekin' workZ. I've only ever had FMIC with corn flakes or tortillas for the outside coating. I don't see any K04N in your recipe, YET, it's like it's there. Nice dough, nice creams, hints of cinnamon, and sweet, but not too sweet. About the only 3 "usual suspects" that I thought of when looking at this was the M&H, CC, and VP with perhaps the EN, but the others, I just wasn't sure about.
I gotta say, on paper @Rocky02852 looked a little …
Buuuuuuuut, when vaping it, it was more like …
Yeah, you forgot the KS…

P.S. Is this the 'Mystery'?
Everything BUT the …Kitchen Sink!

You don't see any IC in there either, yet it's there!
BTW I do have a separate thread on this recipe, hate to clog up the "what I hate thread" with what I like


Maybe @woftam or @Grubby can move a few post over there ?
Yeah, you're right @Rocky02852, maybe move everything south of, and including post 2. We'll tear your recipe down IN the proper area !!!

I'm liking it Rock.
Well ya know… there is always my contests… js

Amen!!

Just very well said and exactly how I say it too, Sd…
Sometimes you just have to trust. Because believe me, if I did not like flv as much as I do… I could easily go back to owning 3700 flavors, real quick… but the shipping adds up, the time you have to wait on delivery… or how long or how fresh those flavors could be.

I hate how "complex" mixing for friends and co-workers can be some times. Have a co-worker who's state banned flavored juices, and wanted to be added to my list. I asked what he was currently vaping (mod/tank/setup/pod) and what PG/VG ratio, and NIC.
He stated he's a podder, and after explaining to him, stated he WAS a MTL'er. No clue on the PG/VG ratio, but it looked pretty thin, assuming 50p/50v or 70p/30v. NO info on the label from the bottle he had, BUT, it stated 25mg. That's pretty high. I asked him to take pics of the entire bottle label and sure enough, just flavor name (local juice house), and 25mg clearly on the bottle. Not Salts, just 25mg.
I ask him more questions, making SURE he's not sub-ohming in a cloud-er, and he's not. Draws into mouth, inhales, a true MTL'er.
I decided to NOT make him full 25mg NIC juice, but mix him up some 70p/30v 18mg which myself and numerous other co-workers MTL with. He loved the flavors but claimed it was harsh, so BACK to the drawing board. Going to either try some Salts, or 50/50 10mg next. Ahhh the fun.
Give him salt and let the FA Passion fruit out for the next mix.

I hate it when an update is going to make my server reboot 3 days before I break my uptime record. (I guess I could wait but na)

The actions/behavior of people like that bee-otch are the REAL disease spreading across this country of ours!
She strikes me as someone who should not be teaching her OWN child, let alone other people's children.