Fixed:
Notes were not showing in the update page for some reason

Fixed:
Recipe Page: Amount was defaulting to 1 making it a pita to change
Fixed:
Recipe Page: Update stash amounts button is now working as it should
Fixed:
Font issue on mobile
Thanks to @Guitarded for the suggestion, I've added a "search for this flavour in the forum" icon to the flavour master list: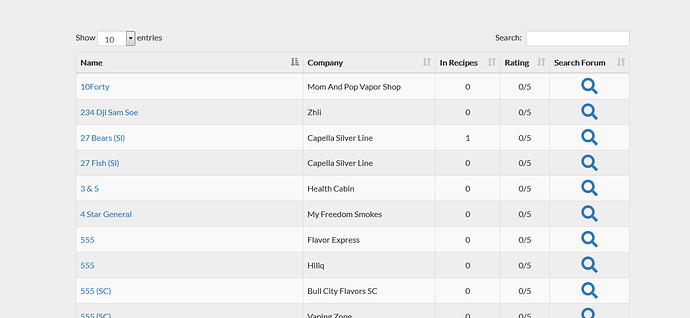 And a button to each flavour page: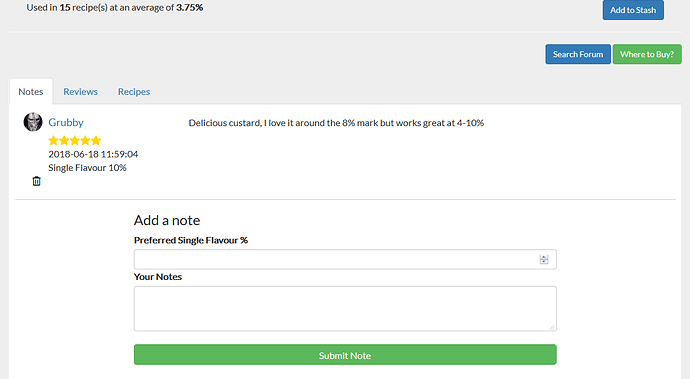 I for one appreciate you running with the suggestion!
As we know, sooner or later, there ends up being a wealth of information on the forum side that isn't in the notes side.


It's always nice to have the option!
Fixed:
Font should be the same throughout the site now
Adapt page remove flavour icon
Added:
Latest public recipe and latest flavour review to frontpage
View users page inside your dashboard
I do like the font @Grubby any chance of making it a smidge bigger?
Added:
Control the privacy status of your recipes straight from your recipe list by clicking on the yes / no in the public column.

Recipe Restore
Accidentally deleted a recipe? Deleted a recipe but want it back? Well now you can…
Introducing recipe restore, simply click the restore button to get your recipe back.
Will only work with recipes deleted from today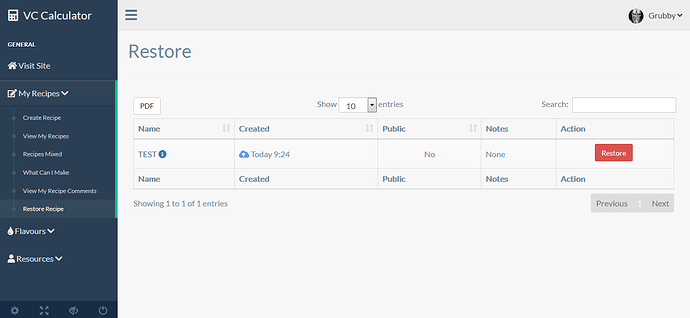 Well you're just kicking ass and taking names aren't you?!!

The Calculator is looking great Grubster!

Thanks man, it's getting there slowly, wish more people would use it lol
Automatic Update Revisions
Thanks to @woftam for this suggestion.
When updating a recipe, the previous version will be automatically saved with a Rev-n prefix so you can refer back to it if needed.
At some point you will be able to make a revision the master recipe.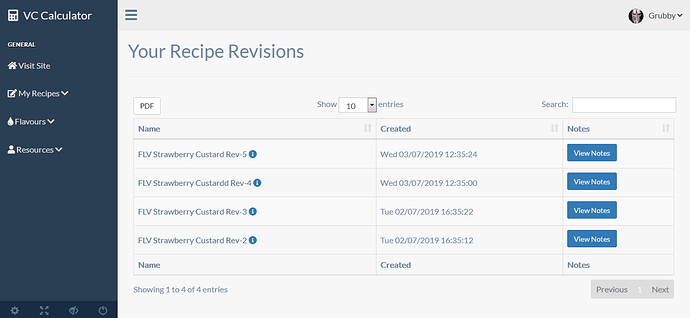 If a recipe has revisions, you will see a revs link in the recipe list

If I were pugs I would say whoever thought up that idea is a genius but since I am not (offers praise here) I will say whoever coded this is a genius. Thank you, @Grubby brilliant mate.
Awesome to see.

. This is great.
Thanks to @woftam I have made changes to the way a recipe is made public, it is now done solely from your recipe list, instead of as a checkbox in the create, update and adapt pages.
This will enable the "released" column, showing date and time when a recipe was made public rather than created.
I have set all recipes to private, please click the link in your recipe list to make the appropiate recipes public again.
Sorry for the incovenience, if there is a certain time and date you want a recipe to have, please let me know so I can manually change it in the DB, thanks
Vape Gear
Vape gear stash / notes / reviews / rating