Looks like a recode is in order for the create / update functions / pages, seems to be a lot of problems lately.
If you do happen to find a bug or something is not working how you think it should could you please post here in the following format:
BUG
What Page were you on?
What were you doing?
Any other details (recipe values / button click)
Browser you were using
I had trouble last night and earlier today. Seems the problem is when I use a kindle Fire with Amazon's silk browser. Everything works for me with Firefox.
Yeah, Silk is broken in several respects.
(It's cripple-ware IMO)
But you can load the necessary Google services (and Play store) on most Amazon devices.


I just did that for mom's FireHD tablet (7th gen) last month.
(Holler if you want, or need a hand.)
I definitely will. I don't know why I ever bought this thing and rarely ever use it. Anything smaller than a desktop PC or laptop irks me. Of course I have no idea how to get rid of the Amazon junk on it. I have the same 7th generation HD and I'll holler when. Too much on my plate right now. Hell half the time I can't figure out my phone and its I guess just a basic phone.

Fixed the SSL issue with the calculator, sorry about that
Coming Soon:
The new user dashboard, everything you need to create, view, edit your recipes / flavours all in one handy dashboard.
Expanded Menu: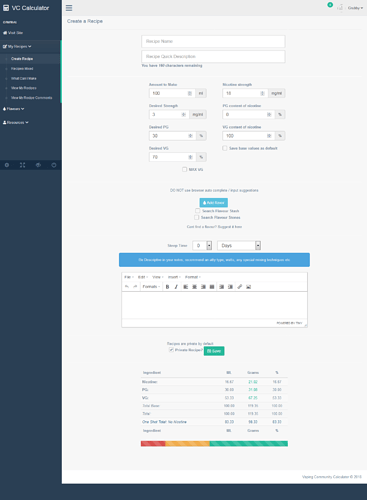 Collapsed Menu: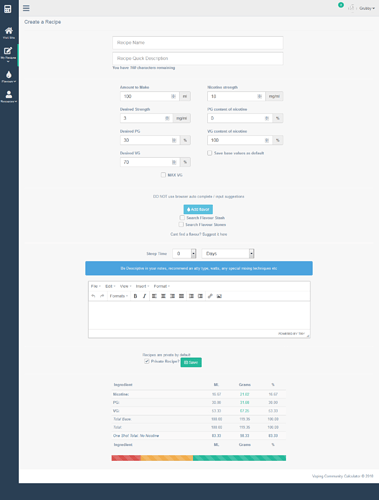 Nice one @Grubby cant wait to test drive
E-Liquid Calculator Dashboard
It is finally ready to be used, the dashboard replaces the main navigation, putting everything you need in one neat place, should make it easier to navigate around, as always, any problems, let me know asap, thanks and happy mixing!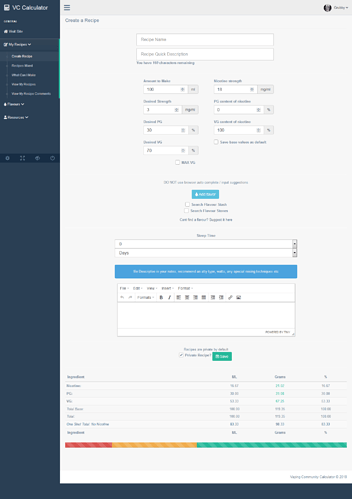 Flavour Notes and Reviews
It would be really cool if we could compile more reviews and notes on flavours, simply click on a flavour in the master list and use the corresponding forms.
Flavour Reviews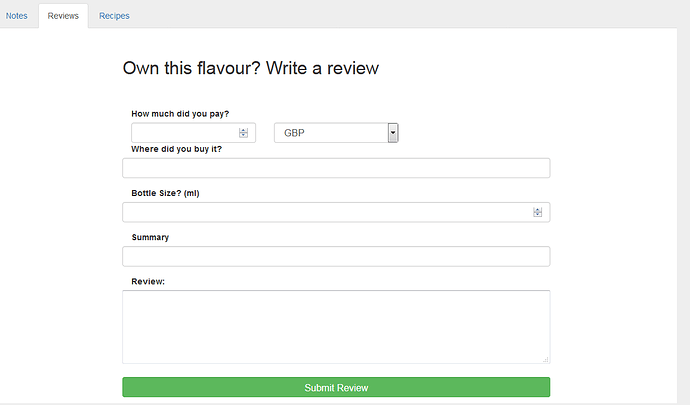 Flavour Notes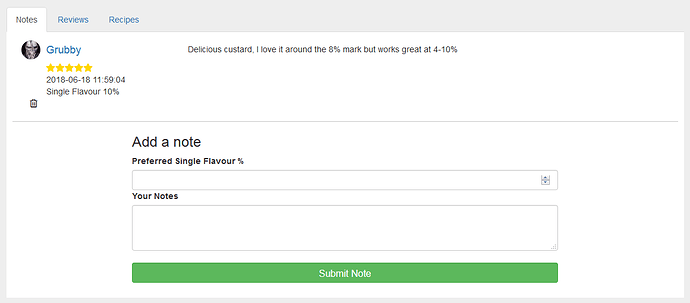 Hey @Grubby I know you have a bit on the plate (I am sure we had a thread for bug reports will move this when/if I find it)
No rush whatsoever mate just a note so it isn't forgotten
I will add to the list as I find more
Print recipe from the dashboard page isn't functioning
When adapting a public recipe the private box is unchecked and the leave page popup is triggered as you hit save.
Thanks, I'll fix them ASAP
The first page you hit on the dashboard is it just a stats page I assume WIP? As what look like links are non clickable and the stats are a little incorrect.
Yeah it's gonna be a stats page and is a massive WIP
@woftam Adapt and print should be fixed now, if you are not logged in you can still adapt but not save on the old adapt screen, if you are logged in you will be redirected to your dashboard to adapt
Updated all recipe flavours ID's some were set to 0, they should all now point to the appropriate flavour page
Fixed:
Recipe hash for private share on adpated recipes.
Number of users recipes in dashboard
Links in dashboard for users recipes, flavours and public recipes