New Arrival: Lost Vape Thelema Solo DNA 100C Box Mod
Lost Vape Thelema Solo DNA 100C Box Mod is a fresh product with unexpected features and output. In order to improve the user's sense of use, it has been innovatively designed in many aspects. If you are curious about its more detailed content, please take a look at the more detailed description.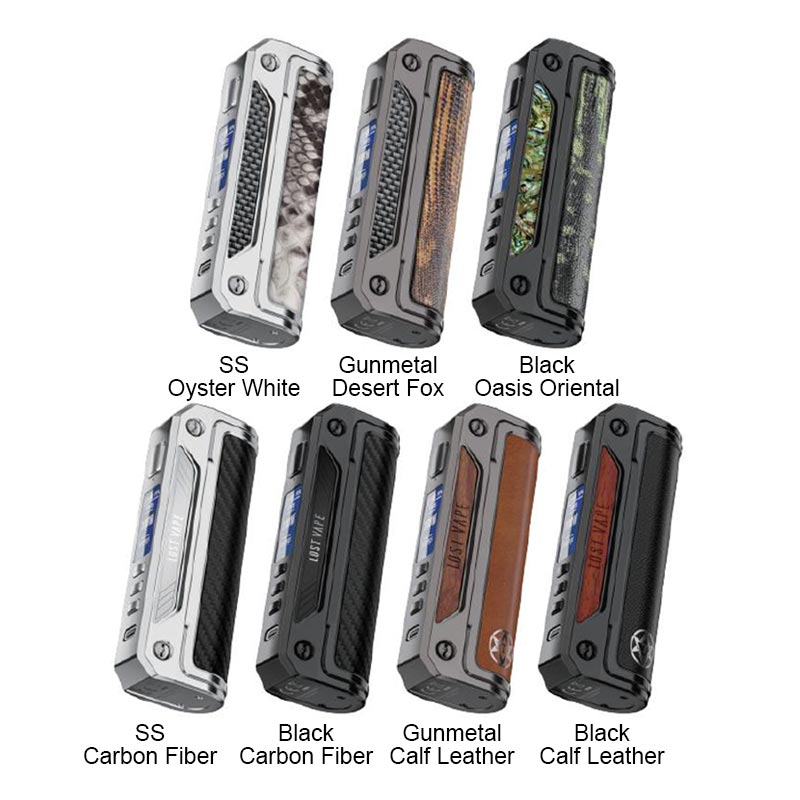 Mention to its performance, the Thelema Solo DNA 100C Box Mod is compatible with a single 18650/21700 battery (Excluded) for the continuous battery life of the product, ensuring a longer lifespan.
The mod is equipped with the advanced Evolv DNA 100C Chip, which provides better output and stable functions.
Featuring a 0.96inch TFT screen on the fuselage that provides power, and battery levels and allows you to switch modes.
Lost Vape Box Mod comes with VW/TC/Boost/Replay/Preheat mode as well, which allows you to adjust the power between 1-100W, and the temperature control can be adjusted to a suitable temperature according to the resistance value to prevent the coil from drying hit and shorten the product life. Boost mode can help speed up the power delivery to quickly achieve the flavor you want. The preheat mode helps the product to be preheated so that when you want to use it, it produces the richest and most delicious texture.
With a C-type battery cover on its side to help you protect the battery, and of course, you can easily lift the cover for replacement.
You can also fast charge through the type-c interface at the bottom, and the 3A charging cable increases the charging efficiency by 38%, allowing you to start a new vaping journey in the shortest time.
The shell is made of leather and zinc alloy, and three of them are made of special kingsnake leather, which makes the products look amazing, and the quality is definitely worthy of the trust of users.
It can be said that Lost Vape is impeccable in all aspects and is really considering the problem from the user's point of view. Such a careful product deserves people's attention.
We also suggest you:
voopoo argus gt 2 mod
geek vape l200 mod