Airis Dabble Vaporizer Kit
Airis Dabble Kit is a wax concentrate vaporizer kit that comes with 900mAh battery capacity. It is compatible with both 14mm and 19mm glass bongs, so you can enjoy the best dabbing experience at home. With the press of a button, you can use it as a dab pen. It utilizes the Quartz Coil Technology to provide you pure taste. Auto heating mode and manual heating mode are designed for Dabble, you can switch the mode by pressing the power button. It features three different voltage options (3.4V, 3.7V, 4.2V). You can insert the atomizer into the main body to connect with battery easily with the unthreaded atomizer connection.
Details:
Quartz Coil technology
Glass bong compatible
Auto heating mode and manual heating mode
Temperature setting
Can be used as a dab pen
Variable voltage: 3.4V, 3.7V, 4.2V
900mAh large battery capacity
Unthreaded atomizer connection
Micro USB charging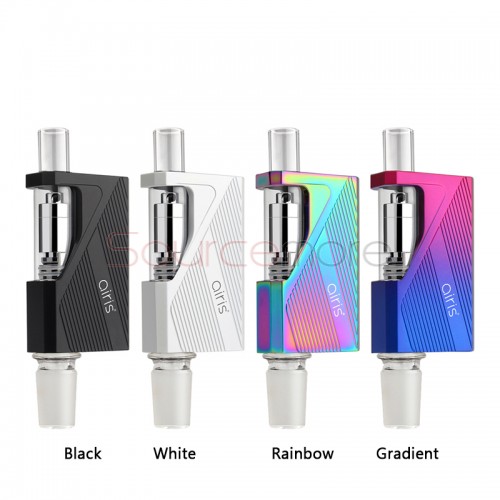 Mystica III Vaporizer
Airis Mystica III 3 Vaporizer Mod features portable, compact and stylish. It is powered by a 350 built-in battery that will last all day long. And it can be charged via Micro USB cable. In addition, it also adopts variable voltage to meet your different vaping demands. Utilizing magnetic quick connetion and 2-in-1 adapter, it is compatible with most 510 thread cartridges. Besides, it fits for CBD and THC Oil Cartridge, allowing you to choose the flavor you like. Moreover, it comes with transparent oil level view window to show how much oil you have left, which brings you more convenience.
Details:
Feature portable, compact and stylish
350 internal battery with adjustable voltage system
Compatible with most 510 thread cartridges, 12mm
Transparent Oil level view window
Magnetic quick connetion and 2-in-1 adapter
Preheating mode for convenience and safety
Fit for CBD/THC Oil Cartridge