Uwell Nunchaku Kit is powered by single 18650 battery that max output can up to 80W, it is the first vape mod kit from Uwell. It has innovative fire button that is convenient to switch the multiple modes, the battery indicator on the screen will bring the intelligent experience. Working with the brand new Nunchaku tank and the easy plug-pull coils, the Uwell Nunchaku Kit will bring the chase cloud vapor. Also, the ventilation hole of the battery door provides the anti-overheating protection. Uwell Nunchaku 80W Vape Kit is as powerful as mech mod and as safe as the box mod!



Shop now>>
Eleaf iPower 80W 5000mAh Box Mod
The iPower comes with an ultra-large battery capacity of 5000mAh in a compact design, which can last you for a remarkably long time at any power setting. Not only does it apply the new firmware with Smart mode and custom logo, the iPower also has a fashionable looking and comes with many attractive colors for your options.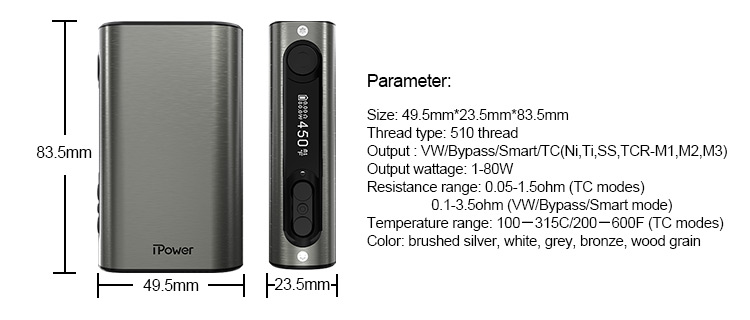 Shop now>>