Took advantage of both


Wasn't planning on adding any new flavors but there waffle crunch caught my eye, hope it is decent.
Picked up 10 nic riv flavs, not all new but new to me. That with (10) 30ml stubby chubby gorilla bottles, tax and shipping just a shade over $20 figured it was worth a shot, like buying a single 100ml at a vape shop for a discount. There smallest bottle is 15ml which is pretty generous, hope there are at least 3 or 4 worth reordering.
We're back with a couple of big announcements! First we are having a 30% OFF sale sitewide all week! Just use coupon code APRILSPOOLS at checkout!
I ordered some of there new Hex Core 32g, been enjoying the 30g version in some single coil tanks but too low to run dual coil unless in a series deck. Comes out to around $16 after the discount for a 15ft spool which is lasting me a while, only have to cut about 3 to 4" off the spool as it is so wide with 6 cores.
Save on ALL 100mg/mL Nicotine Products!!!
Active today, Friday, May 3rd through the end of the day Monday, May 6th. Use discount code MAY25 for all* 100mg/mL Classic Nicotine Base and Nicotine Salt Products!
*Volume sizes 1L and below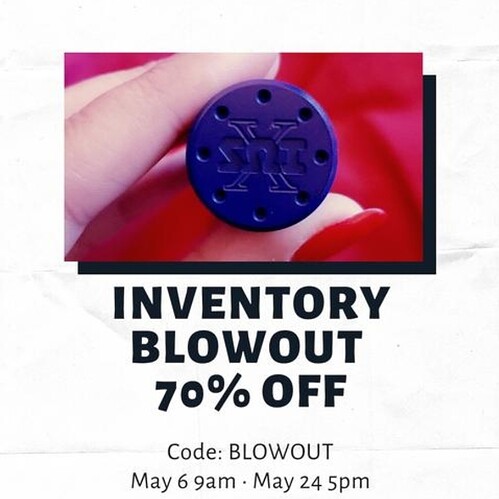 Only tried a friends SOI mech and it is damn nice, the RDA wasn't a fan of with the normal top cap and drip tip but the optional chuff cap made it a much better RDA.
They have an RTA but haven't heard good things about it.
70% off the mechs are a crazy good deal, it comes out to about $40, my friend spent close to $200 for this setup and loves it. That sleave he has is not available anymore though.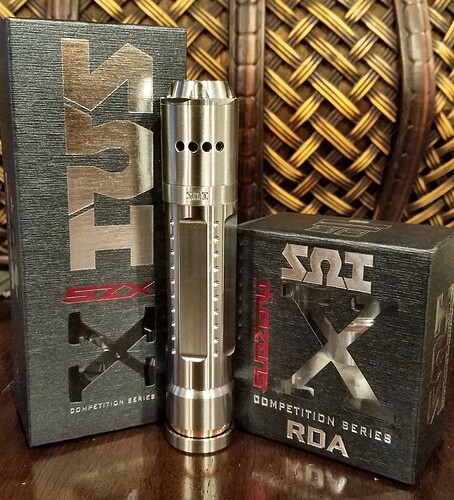 ENABLER ALERT! @Mjag forced me to order the mini RDA, chuff cap, and RTA. The RTA is a few years old and I am not expecting much, but it was about $12 with the discount so thought I would give it a try. They processed the order and got it in the mail in less than a day.
Looks like the fish wrapped in a newspaper worked, I will call off Vito…I only ask for a favor in return

…more vape gear

They shipped quick, getting my order from Monday today.
Hello everyone! We're having a 20% off flash sale from now till 06/13/19 @ 12PM PST!
The flash sale will only be on some new additions to our website: Medicine Flower & Molinberry!

Code: NEWFLAVORS
Nicotine River
Medicine Flower's genuine, food-grade flavors are used for culinary, scent and cosmetic applications. Our flavors are cold-processed using extraction without the use of any colorants, fillers, diluting agents or preservatives. Our flavors are…
Nicotine River
Molinberry is a brand of multipurpose concentrated flavours, manufactured to the highest standards of the industry! There are used and supplied in number of various businesses, like perfumes, scented candles, air fresheners,…
Expect to see more variety appearing on our site in the upcoming months! Thank you!

I already know what to get via Molinberry but considering the pricing on MF what are the must haves, don't want to go broke

IMO MF Lemon is the very best lemon there is.
Thank you my friend, I was reading over @woftam notes on the other thread as well, will post them here for others.
Medicine Flower
Wild Raspberry - is unmatched by any other on the market I have tried
Lemon - is also very very good
Dark Chocolate
Nectarine
Peach
He posted about MB as well since it is on sale too.
Molinberry
Funky Pineapple - super ripe delicious and yummy
Glamour Chocolate I have to work on this a bit more since I think I can push it to replace the INW milk Choc original that I will soon run out of
Molinberry have a bunch of great flavours they are not super strong but Marcelina and her Hubby used to work for inw (I believe they were inw flavour boffins)
In addition to the Lemon and Dark Chocolate already recommended, obviously I'm going to suggest Butterscotch! lol
I'd also consider their milk chocolate.
I remember your love of MF Butterscotch and since you also like FW Natural Butterscotch I know you're a man of good taste, it's in the cart

I am wondering if the ones NR are offering are diluted since they list PG as one of the ingredients? Hopefully, it is not the case and just an error or it could be a new line from MF or all the PG sensitive people are not so PG sensitive after all (entirely possible since the usage is very low that there isn't enough pg to trigger a reaction). MF have never been very good with providing details on their flavourings despite a requirement that they do so I have asked for msds before and been ignored.