IMO MF Lemon is the very best lemon there is.
Thank you my friend, I was reading over @woftam notes on the other thread as well, will post them here for others.
Medicine Flower
Wild Raspberry - is unmatched by any other on the market I have tried
Lemon - is also very very good
Dark Chocolate
Nectarine
Peach
He posted about MB as well since it is on sale too.
Molinberry
Funky Pineapple - super ripe delicious and yummy
Glamour Chocolate I have to work on this a bit more since I think I can push it to replace the INW milk Choc original that I will soon run out of
Molinberry have a bunch of great flavours they are not super strong but Marcelina and her Hubby used to work for inw (I believe they were inw flavour boffins)
In addition to the Lemon and Dark Chocolate already recommended, obviously I'm going to suggest Butterscotch! lol
I'd also consider their milk chocolate.
I remember your love of MF Butterscotch and since you also like FW Natural Butterscotch I know you're a man of good taste, it's in the cart

I am wondering if the ones NR are offering are diluted since they list PG as one of the ingredients? Hopefully, it is not the case and just an error or it could be a new line from MF or all the PG sensitive people are not so PG sensitive after all (entirely possible since the usage is very low that there isn't enough pg to trigger a reaction). MF have never been very good with providing details on their flavourings despite a requirement that they do so I have asked for msds before and been ignored.
Good deals thread should probably be changed to enablers anon.
On the off chance anyone is looking for a bargain priced mech - I have not tried this one but asMODus make some nice kit and $116 off rrp is nice.
For $23.90 it is a nice price point.
https://www.sourcemore.com/asmodus-rose-finch-mech-mod-copper.html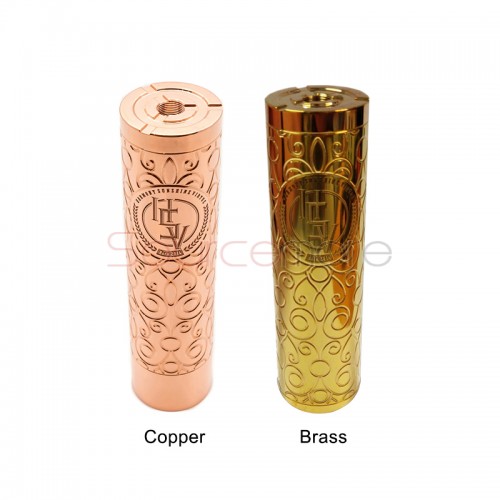 @Steampugs damn you and your carbon topside review you made me get 2 (the blue and the white well they call it white anyhow). Picked em up for $120 bones ea of all places FT was the best price I found.
You'll fucking love it mate I'm sure, I can't put the thing down it's awesome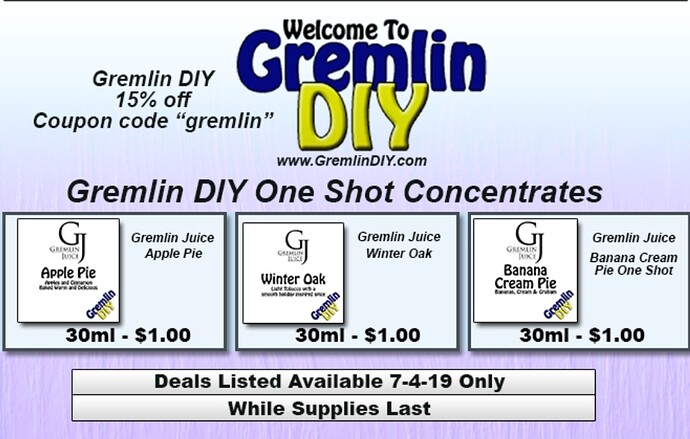 Liquidbarn is having a sale too, up to 50% off some items, 40% off there flavors. Might have to stock up on Vanilla Ice Cream at that discount

Real Flavours have currently got a blowout sale 50% off on a bunch of flavours if you buy from
https://www.realspices.com/ you can get a further 20% off using RS20 (i am pretty sure they can be stacked)
Oh if you have any recipes that use RF bourbon it is being discontinued so buy up (I hope they don't kill the aged bourbon cream it is one of their best flavours)
Looks like Realspices is having issues atm (or has been redirected to the main rf site) not sure what is going on there
25% Off at Nicotineriver.com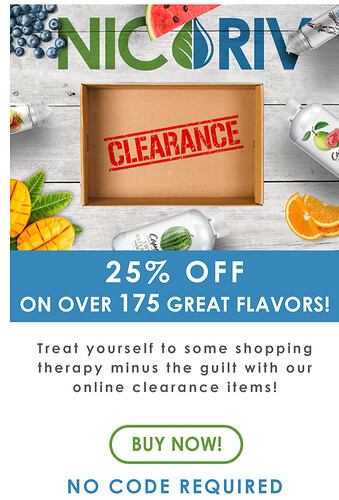 $10.99 for OFRF GEAR RTA! ENDS TODAY 7-31-19
It is decent, some like it more than others. Not my favorite single coil RTA but a sweet deal for sure.
Pretty good deal

had to snag one. Looks like they have rainbow and a few gold are left. Thanks for passing it along @Mjag!
http://bestcigliquid.co.uk/ Coupon code